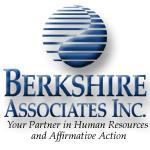 "I believe the new census data will increase the likelihood that federal contractors will have placement goals for minorities. When comparing the U.S. demographics from the 2000 data to the new EEO data."
Columbia, MD (PRWEB) March 25, 2013
Recently, in an online interview conducted by Bloomberg BNA's Labor and Employment Blog, Beth Ronnenburg, SPHR, President of Berkshire Associates, discusses how updated data on the U.S. workforce issued by the Census Bureau will affect federal contractors establishing placement goals for women and minorities. In the interview, Ronnenburg also explains key information contractors need to understand about goals.
In accordance with Executive Order 11246, government contractors who are required to maintain written affirmative action plans (AAPs) must institute the process of setting placement goals for women and minorities in job groups where those groups are underutilized. According to Beth Ronnenburg, "It is important for contractors to realize setting placement goals is the start of the race and not the end." In this interview Ronnenburg informs contractors on how to effectively implement placement goals that are in agreement with the current compliance standards.
Click here to access the entire interview
For media inquiries, please contact Carla Pitman at 800.882.8904 ext. 1309, or carlap(at)berkshireassociates(dot)com.
About Beth Ronnenburg:
As President of Berkshire Associates, Beth Ronnenburg, SPHR is responsible for leading one of the most reputable and respected brands in affirmative action compliance solutions—Berkshire Associates. Beth, who became President in June 2011, is the steward of Berkshire's strategic vision, "to help companies build their ideal, balanced workforce." She oversees all business interests and operations, and more importantly, Beth is a well-known thought leader who speaks regularly at conferences including SHRM, Industry Liaison Group, and other national events.
About Berkshire Associates:
Berkshire Associates is a human resource consulting and technology firm, specializing in helping companies build the ideal, balanced workforce. As an industry leader, Berkshire provides the latest tools and services for affirmative action, applicant management, compensation management, workforce planning, diversity, and professional training. For over 25 years, Berkshire has serviced the nation's most recognizable companies; and as a result has mastered providing clients with cost-effective solutions to everyday human resource challenges.
About Bloomberg BNA:
Bloomberg BNA is a primary source of legal, regulatory and business information for professionals. The BNA network which includes over 2,500 reporters, correspondents and leading practitioners inform professionals on expert analysis, news, practice tools and the guidance needed to excel in their field. Bloomberg BNA's coverage spans the full range of legal practice areas, including tax and accounting, labor and employment, intellectual property, banking and securities, employee benefits, health care, privacy and data security, human resources and environment, health and safety.
###