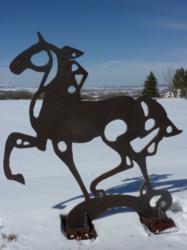 "For me, horses and art go together, and dude ranching fits right into that!" Colorado equine artist Janene DiRico
Antonito, CO (PRWEB) March 24, 2013
Rainbow Trout Ranch, a guest ranch in the southern Colorado Rockies, is proud to announce that one of their longtime guests, Janene Di Rico, has been selected to display her piece "Iron Horse" at the 15th Annual "Art on the Streets" in Colorado Springs.
The steel version of the piece measures 54"x 53"x 1/2" and will be on display in the city from June 2013 to May 2014. There will be maps available for the public when all the pieces are in place. DiRico whose tagline is "where horse play is an art" lives in Colorado and mainly focuses on bronze equine sculptures.
DiRico first visited the Rainbow Trout Ranch ten years ago with her sister for their yearly Sister Trip. Over the years they've been to various dude ranches, but they always return to Rainbow Trout Ranch where they have made many friends and where, according to DiRico "It feels like coming home." DiRico even modeled one of her earlier pieces "Ever Watchful" on measurements taken of a newborn foal by Jane Van Berkum at the ranch.
Pieces can be viewed at DiRico Fine Art's website. DiRico is an associate with The American Academy of Equine Art, Women Artists of the West, and is a member with several art guilds. DiRico says that "dude ranching has been the perfect way to combine my love of the west with my love of horses--without roughing it!"
About Rainbow Trout Ranch
Rainbow Trout Ranch is a family owned dude ranch in excellent standing with both the state and national dude ranching associations, and exclusively five star reviews on Trip Advisor. The ranch has a long tradition of providing superb western hospitality for families, couples, groups and singles looking for an adventure vacation in the Rocky Mountains of southern Colorado. Inquiries can be made to 800.633.3397 or the website.