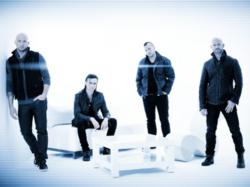 "These children need our help and this program delivers."
Nashville, TN, Lemoyne, PA (PRWEB) March 22, 2013
Nashville, TN and Lemoyne, PA (March 22, 2013) – Michael Barnes, lead singer of rock band RED, whose recent album "Release The Panic" landed on the Billboard Top Ten, announced that he will participate in the CURE Champion Program by running the Rock and Roll Marathon in Nashville next month. Established by CURE International, the Champion Program allows participants to meet a fitness goal while simultaneously raising money for life-changing surgeries for children in emerging countries.
To help increase the visibility and support of the CURE Champion Program, Mr. Barnes is inviting fans to train and run the Rock and Roll Marathon with him. In addition to the band's social media presence, fans will have access to Mr. Barnes and his marathon training regiment and tips on the CURE Champion web page. CURE Champion team members also have access to three celebrity fitness coaches as well as a fund-raising specialist on the Champion web site.
"After visiting the CURE hospital in Ethiopia, I saw firsthand how the surgeries restored hope and a life of normalcy to these young children and their families," states Michael Barnes. "As a child, I always dreamed of being in a rock band, having fans and entertaining people. I made a promise to myself that if I ever got there, I'd try to help others achieve their own goals. These children need our help and this program delivers."
To get involved with Michael, please visit: http://cure.org/red
To get involved, visit http://cure.org/champion.
ABOUT CURE CHAMPION:
CURE's Champion program connects your fitness and sports goals with the needs of a physically disabled child across the world. These children, unable to walk, run, and play, suffer from conditions that are correctable. You, along with other champions, will partner with friends and family to build support and raise money towards your financial goal to heal them. Because we want to see you meet your goals, CURE has partnered with a team of awesome trainers and coaches who are ready to help you achieve your fitness and fundraising objectives. Groups or individuals are given a customizable webpage to promote and manage their program. When the fundraising goal has been achieved, a team member and coach will be randomly selected for a goodwill trip to a CURE Hospital to meet with the patients and families at their homes
ABOUT CURE:
CURE International's mission is to heal the sick and proclaim the kingdom of God. It is the largest provider of reconstructive surgery to disabled children in the emerging world. Since opening the doors of its first surgical teaching hospital in Kijabe, Kenya, in 1998, CURE's focus on bringing healing to developing nations has resulted in more than 1.9 million patient visits and over 138,000 surgeries to correct physically disabling conditions. CURE hospitals are located in Afghanistan, Dominican Republic, Ethiopia, Honduras, Kenya, Malawi, Niger, Uganda, United Arab Emirates, and Zambia. The Tebow CURE Hospital is also currently under construction in the Philippines. CURE has also trained more than 6,100 medical professionals, raising the standard of care in the countries where it operates. Please visit http://cure.org for more information.
ABOUT RED:
Nashville-based rock outfit RED comprises Michael Barnes (vocals), Anthony Armstrong (guitar) Randy Armstrong (bass) and Joe Rickard (drums).Together, its three prior albums-- End of Silence (2006), Innocence & Instinct (2009) and Until We Have Faces (2011)--have sold more than 882,000 units, garnered two GRAMMY nominations, five GMA Dove Awards, two Top 10 Active Rock singles, three Top 10 Mainstream Rock singles and 10 consecutive No. 1 hits at Christian radio. RED's Until We Have Faces, released Feb. 1, 2011 marked the group's highest national debut at No. 2 on the coveted Billboard Top 200 Albums Chart. Additionally, the project topped the following Nielsen SoundScan charts: Current Hard Music, Current Rock Music, Current Alternative, Christian Rock, Current Contemporary Christian Album and Record Label Independent charts. Also its debut week, two of the album's songs were spotlighted on national TV, with TBS' "Conan" featuring "Faceless" and NBC's "Tonight Show with Jay Leno" highlighting "Not Alone." In addition, RED is known for its relentless touring, performing alongside notable rock names such as Hinder, 3 Doors Down, Creed, Breaking Benjamin, Three Days Grace, Godsmack, Sevendust, Drowning Pool, Flyleaf, Seether, Saving Abel, Staind, Third Day, Switchfoot, Skillet, Papa Roach, Buckcherry and others. Rave reviews for the band's live shows and albums have been featured in top media outlets including USA Today, Billboard, Modern Drummer, Rolling Stone and Guitar World.
Media Contacts:
Karen Carr
MRB Public Relations
732 758-1100 x101
kcarr(at)mrb-pr(dot)com
Matt Shandera
Director of Marketing
CURE International
717-649-1138
matt.shandera(dot)cure(dot)org