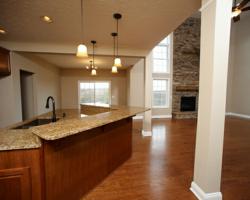 Uniontown, OH (PRWEB) March 22, 2013
Custom home builder Wayne Homes has announced a limited time opportunity for families to purchase a home at 2012 prices before a planned price increase takes effect on April 15th, 2013.
The company announced the price increase in response to growing demand for new homes in 2013, which is creating higher prices for materials and labor. The company announced the price increase early to give families who are considering a new home purchase time to lock in their price early.
"We believe that today's housing prices and interest rates provide families with more buying power than they are likely to have if they wait another six months, based on a continuing strengthening of the housing market in all of the areas where we build," says George Murphy, President of Wayne Homes.
The company, which currently builds custom homes in Ohio, West Virginia, Indiana, Michigan, and Pennsylvania, has announced a recent expansion into three new counties to manage increased demand. According to Vice President of Marketing Maurie Jones, the limited time opportunity to lock in 2012 prices and current interest rates can make a meaningful difference for families.
"By purchasing now at a lower cost and historically low interest rates, families may have more buying power which could translate to a lower monthly payment, more upgrades and customizations to personalize the home, and a greater peace of mind every month," says Jones.
Jones states that with 41 floor plans to choose from, and 27 of those priced under $150,000, now could be the perfect time for families to take advantage of the opportunity to build a dream home on almost any budget. Jones adds that purchasing a home prior to April 15th, 2013 provides families with an additional benefit.
"Based on current demand, we recommend that buyers purchase now in order to have their home completed in time for the holidays," says Jones.
For more information about Wayne Homes, visit the company website to access interactive floor plans, view virtual tours, and obtain pricing. While visiting the website, families can get ask questions about the custom home building process and get answers in real time via Live Chat.
About Wayne Homes
Wayne Homes is a custom-home builder in Ohio, Pennsylvania, Indiana, Michigan, and West Virginia. We offer 41 fully customizable floor plans and a team dedicated to providing the best experience in the home building industry. For more information, Ask Julie by Live Chat or call us at (866) 253-6807.