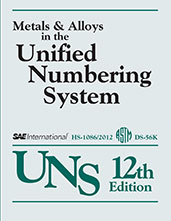 SAE International and ASTM International have published the latest edition of the popular "Metals & Alloys in the Unified Number System."
WARRENDALE, Pa. (PRWEB) March 22, 2013
The Unified Numbering System (UNS) for Metals and Alloys provides a means of correlating internationally used metal and alloy numbering systems administered by societies, trade associations, and individual users and producers of metals and alloys.
SAE International and ASTM International have published the latest edition of the popular "Metals & Alloys in the Unified Number System," which provides the uniformity necessary for efficient indexing, record keeping, data storage and retrieval, and cross-referencing.
Updated to include more than 5,600 designations; 4,100 representative specification cross references; and 15,350 trade names, the 12th edition of "UNS" includes:

Introduction to the Unified Numbering System
Index to UNS Designations by Base Elements
Listing of UNS Numbers assigned-to date, with a description of each material covered and references to documents in which the same or similar materials are described
Cross-index of commonly known documents that describe materials that are the same as or similar to those covered by UNS numbers
Index of Common Trade Designations
Reprint of the J1086/ASTM E527 Standard "Recommended Practice for Numbering Metals and Alloys"
Cross-references include specifications from these organizations:
AA (Aluminum Association) Numbers
ACI (Steel Founders of America) Numbers
AISI (American Iron and Steel Institute) including SAE Numbers (Carbon and Low Alloy Steels)
AMS (SAE Aerospace Materials Specifications) Numbers
ASME (American Society of Mechanical Engineers) Numbers
ASTM (American Society for Testing & Materials) Numbers
AWS (American Welding Society) Numbers
QQ (Federal Specification Numbers)
MILS (Military Specification Numbers)
SAE International "AMS" and "J" Numbers
Book Details
Published: December 2012
Pages: 540
Binding: Hardbound
Product Code: HS-1086/2012
ISBN: 978-0-7680-7950-0
Price: $205.00 List, $164.00-$184.50 SAE Member
For more information, including free front and back matter, or to order "Metals & Alloys in the Unified Numbering System, 12th edition," visit http://books.sae.org/book-hs-1086/2012/. To request an electronic review copy of the book, email pr(at)sae(dot)org. Forward published reviews to Shawn Andreassi at pr(at)sae(dot)org or SAE International, 400 Commonwealth Dr., Warrendale PA, 15096-0001, to receive a print copy of the book or another equivalent SAE International book.
Other related books from SAE International include:
"Relational Analysis, Guidelines for Estimating the High- and Low-Temperature Properties of Metals" by: J. Gilbert Kaufman
"Metallurgy for the Non-Metallurgist, 2nd Ed" by: Arthur C. Reardon
"The History of Stainless Steel" by: Harold M. Cobb
The "UNS" also is available as an online subscription product or as a set of online and print products at http://sae.org/uns/.
SAE International is a global association of more than 133,000 engineers and related technical experts in the aerospace, automotive and commercial-vehicle industries. SAE International's core competencies are life-long learning and voluntary consensus standards development. SAE International's charitable arm is the SAE Foundation, which supports many programs, including A World In Motion® and the Collegiate Design Series.