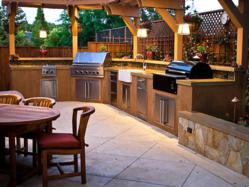 (PRWEB) March 26, 2013
Online publisher, Furniture Fashion has followed the spring trends in 2013 related to home improvement. This spring shows great promise in outdoor kitchen designs that inspire the imagination of possibilities for a home. Consumers are continuing to invest not only inside the home, but also in areas outside the home. The largest outdoor area purchases are pools and kitchens.
A big push for the trend is families wanting improved entertaining facilities for families and friends. Some families that were interviewed mentioned that they wanted another alternative to dining at a restaurant or renting a space at a hotel or banquet facility. When asked why the most common response was wanting a more personable experience for guests. From their perspective, the most personable place possible is the home. Also, by having a party outdoors, it limits the amount of cleanup and mess in particular if it is a kid's party. Preparation and cleanup was also a consideration for the interviewed families.
The collection of pictures can be seen here at: Outdoor Kitchen Designs
Most of the designs follow along with the architecture of the home. Thus, if a home is modern it is more likely to have a modern theme in the outdoor space. Common elements to a space include a barbecue grill, seating area, preparation space and a refrigerator. Elements often added include ice makers and shaded areas. Some of the spaces are attached to the home whereas others are unattached. The choice of attached or unattached is personal preference and not part of a larger trend.
Follow Furniture Fashion on Google+
Follow Furniture Fashion on Facebook