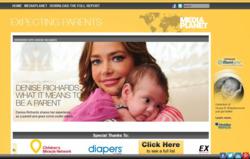 90 percent of pregnant women who receive prenatal care are now being tested for Group B Strep (GBS), the most common cause of life-threatening infections in newborns, which is passed from mother to child during labor
New York, NY (PRWEB) March 22, 2013
One of Mediaplanet's most eagerly anticipated digital campaigns goes live today, providing a unique guide to understanding fertility, pregnancy health, and infant safety. In collaboration with American Congress of Obstetricians and Gynecologists (ACOG), the March of Dimes and the Strong Start Initiative with the U.S. Department of Health and Human Services, the launch of the digital campaign will coincide with the release of a 12-page special interest section 'Expecting Parents' that hits newsstands in USA Today this morning.
To explore the digital version of the campaign, click sites.mediaplanet.com/expecting-parents.
Proactive Prenatal Care
Dr. James T. Breeden of American College of Obstetricians and Gynecologist (ACOG) stresses a closely monitored, full-term pregnancy to ensure the health of both mother and baby. Parents also play a crucial role.
When it comes to prenatal care, expectant mothers should expect nothing less than the best treatment and testing techniques. According to John Kraeutler, CEO of Meridian Bioscience, 90 percent of pregnant women who receive prenatal care are now being tested for Group B Strep (GBS), the most common cause of life-threatening infections in newborns, which is passed from mother to child during labor. Alarmingly, nearly two-thirds of infants born with GBS are delivered to mothers who had tested negative with the standard culture testing. Molecular assays are far more accurate, but mothers need to know that it is up to them to request a lab that uses this technology.
A more knowledgeable mother is more likely to give birth to a healthy newborn.
Three's Company
Denise Richards, doting mother of three, shows off her newly adopted bundle of joy, daughter Eloise.
"It doesn't matter if a child is adopted or not – adding to your family in any way is so rewarding, and I am truly blessed," says Richards.
Fertility: A New Normal
Dr. Sam Najmabadi of the Center for Reproductive Health and Gynecology is a renowned fertility specialist in the Los Angeles area, and is featured in an exclusive online feature, speaking about the ins and outs of fertility treatments that are now possible. Dr. Najmabadi urges couples to learn about fertility as a viable option, and to understand the differences in treatments.
Mediaplanet publishes focused reports on specific business, healthcare, technology or consumer topics.