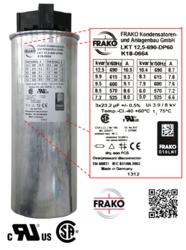 "Most CSA capacitors ship from stock..." John Houdek
Cedarburg, WI (PRWEB) March 25, 2013-Frako capacitors now approved by CSA (PRWEB) March 24, 2013
FRAKO Kondensatoren- GmbH LKT Series capacitors are now certified by Canadian Standards Association (CSA file # MC 256833). Along with CSA approval they are also UL recognized components (cURus File # 337088) and comply with IEC (IEC 831-1, -2 / EN 60831-1,-2). The LKT Series meets or exceeds all known industry standards and surpasses the requirements of UL, CSA and EN/IEC.
FRAKO capacitors are constructed and recommended for use in fixed or automatic power factor correction systems and harmonic filters. The environment-friendly and dry type construction is PCB free and can be mounted vertically as well as horizontally.
The LKT Series product ratings include 208 – 800VAC, 1 – 30 kvar of rated reactive power. Capacitors offer high current capability to handle continuous current as high as up to 2.7 times nominal capacitor current. FRAKO capacitors are suitable for use in continuous ambient temperatures of -40°C up to +68° C and continuous maximum case temperature of 75°C along with maximum altitude of 4000 meters.
FRAKO, established in 1928, has continuously perfected capacitor design and production techniques. Quality tests are performed after each step in production. The state-of-the-art research lab has developed a number of unique and patented features such as the self-healing and segmented film for dual protection against voltage transients plus a patented over-pressure disconnect system. Also, all FRAKO capacitors are available with an optional patented fast connecting plug-in terminal block to save wiring time and to assure secure maintenance free connection for the duration of the capacitor life.
John Houdek, President of Allied Industrial Marketing, states "Most capacitors ship from stock, either from a stocking partner in the US or from the FRAKO Factory in Germany where over 40,000 AC power capacitors are available."
Allied Industrial Marketing offers technical support and application engineering based on thorough factory training.