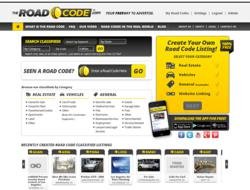 We would rather have quality than quantity
Sparta, NJ (PRWEB) March 26, 2013
Unique, online classified website, TheRoadcode.com, announced a new initiative today to keep their listings as spam and scam free as possible - a dedicated anti-spam staff.
"We want people to come to our site and feel confident the listings are as safe and legitimate as they can be on an online classified site," said Road Code president, Paul Brocky. "We have real, live people look at every listing on the site. If it seems like a scam ad or violates our policies, we yank it. Although this takes a lot more effort, we would rather have quality than quantity."
Common scams and spam that are filtered out by the TheRoadCode.com's anti-spam task force include -

Nigerian 419 scam pet ads
Fake electronics ads
Spam posted by 3rd parties
Duplicate listings for the same item or message
Multi-Level Marketing (MLM) & Home Based Business ads
"Some people ask why we don't allow listings for multi level marketing businesses," said co-founder Tom Catuosco. "The general public perception is that a lot of MLM's are scams. We want to provide our users a website where they can find what they want without wading through a ton of get rich quick schemes. If you look on other classified sites, 99% of their listings are MLM listings. Apparently we touched a nerve with our recent blog post about banning MLM ads, but we feel it's the right move to have a website people can trust."
In addition to its live spam monitoring staff, a new automatic filtering system alerts administrators to potential "spam and scam" listings. The Road Code also allows its users to flag spam listings on their own. There is a red "Flag as spam" link in the upper righthand corner of every listing. Users can also report spam, scams and illegal postings to reportabuse(at)theroadcode(dot)com .
The Road Code, found at http://www.TheRoadCode.com , is an online classified and informational website that allows users to post the who, what, when, where & why about anything they want to promote or sell. Once they have put in all this information into a profile, complete with photos & website links, they are given a four to six character code to use in their marketing and promotional efforts, as well as the ability to print The Road Code signs to post with this unique code. And the best part about the site is that it's free.
For more information, please visit http://www.TheRoadCode.com or call (201) 252 - ROAD (7623)
# # #
About The Road Code
The Road Code was created and developed by two long-time friends, Paul Brocky and Tom Catuosco in March of 2011 and launched as a classified and posting site that allows users to share information in a new and exciting way. Paul's previous life experience in the "real estate world" sparked the idea that lets "drivers" on The Road Code create listings that can be directly accessed via short, easy to remember codes. These "Road Codes" can be physically displayed in the real world allowing people to use their listings as mini-websites to promote the 5 W's of whatever they would like - whether it's an event, a realtor selling a home, someone selling their car, or whatever your heart might desire. These Road Codes can be entered on the website (http://www.TheRoadCode.com ), or the free iPhone & Android apps, and all listing information will be displayed. It's a unique type of classified site that truly allows people to promote their wares, events, existing websites or services.