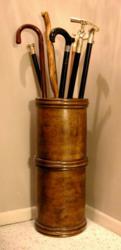 Walking Canes come in a large variety of styles.
Lady Lake, Florida (PRWEB) March 22, 2013
There are many different types of walking canes for different uses, depending on the person's weight, height and condition. Take a look at some of the type of walking canes from http://www.walking-canes.net.
1. Daily-Use walking canes: These walking canes are the most standard and most popular. Some of the different features offered are the derby standard or deluxe, anatomically correct dress walking canes, tourist, palm grip, casual, extra length or support and petite walking canes.
2. Lightweight walking canes: Many enjoy these canes for casual use and style. Lightweight walking canes are not typically used by those that need a great deal of support.
3. Collectable walking canes: These walking canes are great for the person who loves walking canes and uses them as a hobby. There are many different options in purchasing or creating collectable walking canes. Some are handmade and carved from exotic woods.
4. Dress and formal walking canes: These walking canes are wonderful for dressy occasions. Plain walking canes definitely will not compliment formal attire the way that a dress or formal walking cane would. Some dress or formal walking canes are the Alpacca cane with sterling silver or nickel, Italian silver walking canes, fashion diamond encrusted walking canes, gold/silver plated, mother of pearl inlaid walking canes and fabric walking canes.
5. Hand carved walking canes: Hand carved walking canes allow for creation. Generally these walking canes are made of wood and can be designed to meet the taste of the user. Some popular options for hand carved walking canes are animal or famous face carvings.
6. Support canes: These are for correcting a limp, supporting an injury, or to relieve some of the pain of aging and weakness. Support canes can be wooden walking canes, aluminum or other metals. The heavy duty support canes have a quad or tripod legged bottom, for extra support on which can leaned with every step.