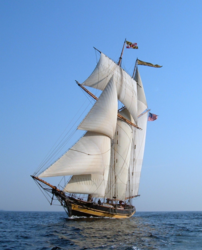 13 Ships, 3 Festivals - A Once in a Lifetime Event
(PRWEB) March 25, 2013
Historic downtown Brockville will come alive with its past on June 14-16, 2013. Commemorating the War of 1812, the TALL SHIPS® 1812 Tour in Brockville will feature 13 ships, vessels from the Clayton Antique Boat Museum, as well as Dinner Charters and Sail outs on the Empire Sandy.
A special free performance by the Great Lake Swimmers will be given aboard the
Brigantine Fair Jeanne on June 14 at 9 PM followed by fireworks atop of Tall Ships Landing.
Flames of War, a multi media "fusion" of video, sound, music, drama and dance, will tell visitors the story of the War of 1812. A Parks Canada exhibit will provides a backdrop on the conflict.
The weekend will also feature heritage programming such as the Akwesasne Travel Troupe, a period military encampment, and a sneak preview of the St. Lawrence Shakespeare Festival's newly commissioned play, Maid for a Musket.
The Great Waterway, a Regional Tourism Organization who promotes and invests in tourism from Quinte West to the Quebec border, has acquired a hot air balloon that will fly high above the skies of The Great Waterway and Ottawa this summer. The official launch will be commemorated by a ribbon burning ceremony at the Brockville TALL SHIPS® 1812 Tour in Reynolds Park on Friday, June 14 at 3:30pm. Complimentary tethered rides will be available weather permitting.
Two other major events will also be held over the monumental weekend. The fourth annual 1000 Islands Wine and Food Festival will take place at the Brockville Memorial Centre on June 14-15. And Diana Panton will perform at the 1000 Islands Jazz & Blues Festival on June 15 at the Brockville Arts Centre.
The TALL SHIPS® 1812 Tour is a pan provincial event that will travel throughout Ontario during the summer of 2013, commemorating the Bicentennial of the War of 1812.
Brockville is the First Port of Call on the province-wide tour, hosting one of the biggest fleets this summer.
From June 14th to September 2nd the Tall Ships will travel to 16 Ontario ports, including Brockville, Toronto, Hamilton, Port Dalhousie, Sault Ste. Marie, Owen Sound, Collingwood, Wasaga Beach, Penetanguishene, Midland, Discovery Harbour, Windsor, Amherstburg, Leamington, Kingsville and Pelee Island. This exciting summer of waterfront entertainment is produced in partnership with the TALL SHIPS CHALLENGE® Great Lakes 2013 series.
Passports to access the ships at the Brockville event will go on sale this April and cost $12 each. Tickets for the dinner charters are $75 per person and take place Friday, Saturday and Sunday nights. Sail outs cost $30 per person and will be available June 15 and 1612 from noon to 5 PM.
For more information visit http://www.tallshipsbrockville.com or call 1-888-251-7676