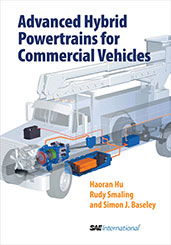 A book from SAE International provides a broad and comprehensive look at the technologies and advancements of one of the possible solutions for such challenges – hybrid powertrains for commercial vehicles.
WARRENDALE, Pa. (PRWEB) March 23, 2013
The recent development of hybrid powertrain components and system integration technologies can reduce fuel consumption by up to 50 percent compared to conventional internal combustion engines. A book from SAE International provides a broad and comprehensive look at the technologies and advancements of one of the possible solutions for such challenges – hybrid powertrains for commercial vehicles.
"Advanced Hybrid Powertrains for Commercial Vehicles" begins with the fundamentals of hybrid powertrain systems, government regulations, and driving cycles, then provides design guidelines and key components of hybrid powertrains for commercial vehicles. The term 'commercial vehicle' applies to everything from light delivery vehicles to class 8 long-haul trucks, buses, and coaches. Such vehicles are used for a wide range of duties, including transporting goods or people and infrastructure service.
This book was written for vehicle and component engineers and developers, researchers, students, policymakers, and business executives in the commercial vehicle and transportation industries to help them understand the fundamentals of hybrid powertrain technologies and market requirements for commercial vehicles. It is useful for anyone who designs or is interested in hybrid powertrains and their key components.
Individual chapters of the book cover:

Introduction of Hybrid Powertrains for Commercial Vehicles
Internal Combustion Engines for Commercial Vehicles
Introduction of Clutches and Transmissions for Commercial Vehicles
Energy Storage Systems: Battery, Ultracapacitor, Accumulator, and Flywheel
Hybrid System Design and Optimization
Hybrid-electric Power Conversion Systems
Hydraulic Hybrid Powertrain System Design
Hydraulic Components and Controls
Fuel Cell Hybrid Powertrain Systems
Commercial Vehicle Electrification
Hybrid Powertrain System Modeling, Simulation, Validation, and Certification
Sustainable Transportation and Future Powertrain Technologies
The book is authored by Haoran Hu, Simon Baseley and Rudolph M. Smiling
Dr. Hu is the Chief Scientist at Eaton Corporation. He has more than 20 years of experience in research and development of internal combustion engines, advanced powertrain systems, and emission control technologies. Prior to joining Eaton in 2002, Dr. Hu held engineering leadership positions at Caterpillar Inc., Detroit Diesel Corporation, and Jacobs Vehicle Systems. Dr. Hu has a Master of Engineering degree from Huazhong University of Science and Technology, Wuhan, China, a Doctor of Science (Sc.D.) degree in Mechanical Engineering from Massachusetts Institute of Technology (MIT) and an MBA from The Ohio State University.
Baseley recently retired from Bosch Rexroth Corporation after more than 25 years of working in leadership positions on automotive pumps and hydraulic systems, including vehicle hybrid systems. He now works part time at the University of Michigan as a Visiting Research Investigator. He previously worked for over 20 years in design and development of aircraft engines for Rolls Royce Ltd. Baseley has a BSc in Mechanical Engineering from the University of Nottingham and an MSc from Cranfield University, England.
Dr. Smaling serves as executive director of systems engineering at Cummins, responsible for implementation of systems engineering principles and processes across the corporation. He previously held the position of Chief Engineer with global responsibility for hybrid system architecture and new product development in Eaton Corporation's Hybrid Power Systems Division. Dr. Smaling also holds a position as adjunct Professor in Mechanical and Aeronautical Engineering at Western Michigan University. Dr. Smaling's academic background includes a degree in Mechanical Engineering from the Technische Universiteit Delft, a Masters Degree in Mechanical Engineering from Michigan Technological University, a dual degree in Engineering and Management from MIT, as well as a PhD in Engineering Systems from MIT.
Book Details

Published By: SAE International
Published: July 2012
Pages: 404
Binding: Hardbound
Product Code: R-396
ISBN: 978-0-7680-3359-5
Price: $99.95
For more information, including free front and back matter, or to order "Advanced Hybrid Powertrains for Commercial Vehicles," visit: http://books.sae.org/book-r-396 .
To request an electronic review copy of the book, email pr(at)sae(dot)org . Forward published reviews to Shawn Andreassi at pr@sae.org or SAE International, 400 Commonwealth Dr., Warrendale PA, 15096-0001, to receive a print copy of the book or another equivalent SAE International book.
Other related books from SAE International include:
Electric and Hybrid-Electric Vehicles - Engines and Powertrains by Ronald K. Jurgen
Hybrid-Powered Vehicles, Second Edition by John German
Hybrid Gasoline-Electric Vehicle Development by John German
SAE International is a global association of more than 138,000 engineers and related technical experts in the aerospace, automotive and commercial-vehicle industries. SAE International's core competencies are life-long learning and voluntary consensus standards development. SAE International's charitable arm is the SAE Foundation, which supports many programs, including A World In Motion® and the Collegiate Design Series™.