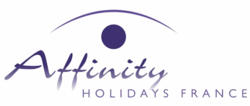 (PRWEB UK) 22 March 2013
One of the leading French villa rental companies, Affinity Holidays France, have recently launched a blog on their site through which they are set to offer last minute deals on properties for those looking for a bargain! With a busy summer season coming up; the company has launched the blog as an easy and straightforward way of keeping potential holidaymakers up to date with the latest last minute deals and offers on rental properties in the luxurious region of Provence in the South of France.
It can be difficult to plan a luxurious holiday in the current economic climate and Affinity Holidays France wanted to be able to easily keep visitors to their site updated with last minute offers in the hope that they'll see something which takes their fancy. Recent last minute deals have included a fantastic offer of 8 days for the price of 7 staying in the wonderful Villa Rosier and a fantastic deal on a stay at Mas de l'Olivet.
Whatever your requirements for a luxury and relaxing break in the South of France, the Affinity Holidays France blog is the place to keep updated with the latest last minute deals! Booking last minute is the best way to save money on your ideal break and with deals and offers being added almost weekly; it makes sense to bookmark the blog!
In addition to offering last minute deals and fantastic opportunities for those looking to stay in Provence; the blog will be used to showcase new villa additions to the Affinity Holidays France range of properties. In recent weeks, the likes of Harmonia and Les Agaves have been added and as and when new properties are available to rent, they'll be first seen on the blog!
Marion Edwards, owner of Affinity Holidays France has stated following the launch of the blog, "we wanted to be able to easily and simply put up last minute deals and offers on our properties and utilising the blog on our new website seemed like the most logical means to do so. We welcome those considering visiting the luxury region of Provence to keep checking back on the blog both to see the latest deals but also brand new available villas as and when they're able to be booked."
For more information on the latest last minute deals and latest villas on offer from Affinity Holidays France, take a read at their blog at http://www.affinity-holidays-france.com/category/blog/ .