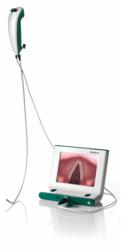 economic models indicate that savings could be highest when using the Ambu aScope2 in the intensive care setting
(PRWEB) March 27, 2013
When assessing a medical technology, NICE considers whether the device improves patient care for the same or less cost, or provides the same outcomes for reduced expense. Having reviewed clinical and economic evidence submitted by Ambu and the views of expert advisers, the NICE Medical Technologies Advisory Committee has developed draft guidance for Ambu aScope 2 which is now open for public consultation.
Likely to improve patient care and save money in certain settings
According to the draft guidance, the Ambu aScope 2 is an alternative when multiple-use fibre optic endoscopes are not available, and the use of aScope 2 has particular advantages for replacing dislodged tracheostomy tubes in intensive care units, with potential for significant cost savings in this setting.
NICE writes, in the press release from today, that: "The evidence suggests that using the Ambu aScope2 is supported by cost models for a range of clinical settings where there is no access to a multiple-use endoscope, or one is unavailable. Those settings are isolated units, operating theatre units, and intensive care units. The amount of money saved will depend on the number of intubations performed and on the number (if any) of existing multiple-use fibre optic endoscopes in use. As an example, the economic models indicate that savings could be highest when using the Ambu aScope2 in the intensive care setting, with estimated savings of around £3000 per unit each year in specific circumstances."
"As well as noting advantages during replacement of dislodged tracheostomy tubes in the intensive care setting, the Committee's further preliminary recommendation is that making the Ambu aScope2 available for use across certain clinical settings is likely to improve outcomes and improve patient safety. The Committee also accepted that, based on cost modelling, the device is likely to save costs across a range of clinical settings and circumstances."1
Lars Marcher, CEO of Ambu, emphasises that this is an example of Ambu's work to save lives and improve patient care: "The draft guidance states that the availability of the Ambu aScope 2 is likely to be cost-saving in all clinical settings evaluated and it has the potential to reduce the risk of brain-damage or even death caused by delayed patient intubation. When one of the world's leading health technology assessment institutes delves deeply into the use of medical equipment, I think most people within the industry will sit up and take notice of their preliminary view. The draft guidance is especially relevant for the financially challenged health systems of today because NICE examines patient benefits as well as economic impact of the Ambu aScope 2."
From draft to final guidance
More than 20 members of the Medical Technologies Advisory Committee of NICE – including doctors, professors, health economists and patient representatives – have taken part in reviewing and discussing the clinical and economic data before producing the draft guidance. In addition, a panel of anaesthetists, who are the experts when it comes to ventilation and ensuring survival in critical situations, have given their view on widespread adoption of aScope 2.
From now and until 22 April 2013 the draft guidance is open for public consultation. Then, the Advisory Committee will consider the comments received and prepare its final recommendations which are expected in July 2013.
aScope 2 – single-use flexible scope
The Ambu aScope 2 is a sterile, flexible, disposable device that is used to overcome difficulties with endotracheal intubation in patients with difficult airways and the management of displaced tracheostomy tubes. It is used to visualise the airway and to aid the placement of an endotracheal tube directly or through an intubating laryngeal mask. It is a portable device that can be used wherever a flexible fibre optic endoscope is needed for airway management.
Contact and further information
Lars Marcher, President & CEO, tel. +45 5136 2490, e-mail: lm(at)ambu(dot)com
Summary page on NICE.org
To view the NICE web page for the medical technologies guidance on Ambu aScope 2, please go to this site: http://guidance.nice.org.uk/MT/158
1 "PRESS RELEASE, NICE opens consultation on new device to help in placing breathing tubes in people with unexpected difficult airways" http://guidance.nice.org.uk/MT/158
About Ambu
Since 1937, breakthrough ideas have fuelled our work on bringing efficient healthcare solutions to life. This is what we create within our fields of excellence – Anaesthesia, Patient Monitoring & Diagnostics, and Emergency Care. Millions of patients and healthcare professionals worldwide depend on the functionality and performance of our products. We are dedicated to improve patient safety and determined to advance single-use devices. The manifestations of our efforts range from early inventions like the Ambu bag and the legendary Blue Sensor® electrodes to our newest landmark solutions like the aScope™ – the world's first single-use videoscope. Our commitment to bring new ideas and superior service to our customers has made Ambu one of the most recognized medical companies in the world. Headquartered near Copenhagen in Denmark, Ambu employs approximately 2,250 people in Europe, North America and the Asia Pacific. For more information, please visit http://www.ambu.com.