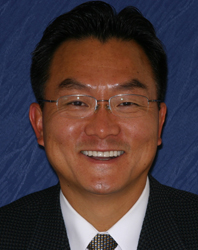 Arlington, VA (PRWEB) March 24, 2013
Arlington, VA cosmetic dentistry patients now have new orthodontic options from Dr. Duke Kim of Ballston Dental Arts with the Invisalign and Six Month Smiles teeth straightening procedures. Both procedures are more patient friendly in that they don't require the maintenance and restraints of traditional metal braces.
With the Invisalign procedure, Dr. Kim creates custom aligner trays that fit into the mouth and gradually move teeth into position. They are replaced every two weeks and adjusted as your teeth shift, and the trays are clear, allowing patients to wear them all the time without discomfort or embarrassment. The trays can be removed to be cleaned, and they should be removed while eating. The teeth straightening process can take up to a year, but it varies with each patient. Dr. Kim is one of Invisalign's preferred dentists, and he offers patients expert advice and treatment.
Another teeth straightening option, which is typically faster, is the Six Month Smiles method. Unlike traditional braces, Six Month Smiles fixes the aesthetics of a smile, only straightening the teeth that can be seen when a person smiles. Although this method uses brackets and wires, they are clear and can barely be seen when a person smiles.
Dr. Kim stresses the importance of straightening teeth because not only does it improve a patient's smile, but it also reduces risks for gum disease, which can lead to larger health issues. Having straight teeth improves the effectiveness of flossing and brushing, helping patients easily reach between teeth that before straightening might have been difficult to clean.
Learn how you can improve your smile and oral health today with Dr. Kim by visiting http://www.ballstondentalarts.com.
Ballston Dental Arts is a general practice offering personalized dental care for patients in Arlington, VA since 1988. Dr. Duke Kim received his Dental Degree from Georgetown University Dental School and studied at NYU Institute for Advanced Studies in Dental Aesthetics. He is part of one percent of dental professionals providing the most recent FDA cleared laser procedure for gum disease and periodontal treatment. To learn more about Ballston Dental Arts and their dental services visit their website at http://www.ballstondentalarts.com and call (571)388-4554.