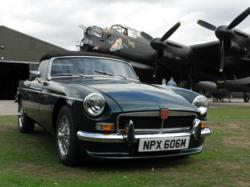 Many classic car premiums are however much lower than the average everyday car policy with 65% of Lancaster Insurance customers paying less than £100 a year*
(PRWEB UK) 24 March 2013
As the winter comes to an end many classic car owners are planning to put their cars back on the road as the UK welcomes the warmer spring. Lancaster Insurance is concerned that many drivers will not be insuring their classic cars this year due to the UK's continued struggle with its economy making classic cars ownership a luxury and the additional insurance costs unaffordable.
With the Recession still hanging heavy in the minds of most of the British population the idea of any further expenditures such as classic car insurance is an unfeasible option for many, but drivers need to be aware of the implications of not being insured.
Speaking to an insurer like the specialist classic car insurer Lancaster Insurance can help save money when purchasing a policy and elevate worries. There are several options opened to concerned classic car owners who don't think they can afford to cover the cost of comprehensive policies, Third party fire and theft, Laid Up or SORN (Statutory Off the Road Notification). Many classic car premiums are however much lower than the average everyday car policy with 65% of Lancaster Insurance customers paying less than £100 a year*. Or if the vehicle is off the road for restoration work getting laid up cover can help if the worst was to happen or for free the government requires you to declare it as SORN, it is important to be aware that the car cannot be driven on the roads if it has either of these. It is particularly important now that the Government has passed the Continuous Insurance Act meaning that all vehicles must be insured or SORN with no break as it could result in a fine.
There are also multiple ways to reduce the cost of classic car insurance such as owners that only use their car for short or occasional journeys may benefit from a limited mileage policy. Belonging to a relevant car club may also be another way to help bring down the premium by offering an additional discount of around 10%-25% (dependant on insurer) which can really make a difference. Keeping a classic or vintage car off of the road in a garage (where possible) or having a second everyday car can all help to cut the cost of classic insurance.
A Lancaster spokes person warns of dangers of driving uninsured: 'Having an IN10 on your policy can significantly increase premiums and many insurers will not cover drivers with this conviction at all, drivers should never consider driving uninsured. '

details of claim available on request to Lancaster Insurance Services.
Lancaster Insurance Services Ltd, established in 1984, specialises in arranging classic car insurance as well as other general insurance products. Our services are available to residents of the United Kingdom (including Northern Ireland), the Channel Islands and The Isle of Man.
Lancaster search a carefully selected panel of insurers which includes many of the UK's leading insurers to get great deal's on classic car insurance. Policy benefits may include agreed valuation, limited mileage discounts, wedding hire, car club member discounts and much more.