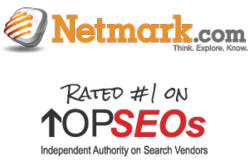 Netmark has been awarded "Best in Search" month-after-month by numerous Search Engine Optimization reviewers, especially topseos.com.
Idaho Falls, ID (PRWEB) March 22, 2013
Netmark is pleased to announce continued growth while experiencing high rankings from topseos.com. Netmark has been awarded "Best in Search" month-after-month by numerous Search Engine Optimization reviewers, especially topseos.com.
Netmark's growth resembles that of all quality rising-stars in any industry. What began as a two-man operation out of a garage in South Eastern Idaho has grown into one of the fastest growing companies in Idaho as well as the entire Search Engine Optimization industry.
Netmark credits their growth to focusing on quality work with their clients. Netmark recognizes that everyone wants solid ranking for their website, but also realizes that a business approach to marketing, focusing on the bottom line is more important in the end. Ranking well for several keywords that are neither searched nor profitable does not help companies to grow, therefore Netmark focuses instead on visits to their client's website, conversions engaged by visitors to websites, and overall profitability of the marketing campaign.
Unfortunately, as in any industry, internet marketing can be a difficult industry to understand. This makes internet marketing difficult for many businesses, trying to separate legitimate companies from snake oil swindlers. Because of the shady practices of some Search Engine Optimization companies, Netmark proudly touts their awards. Recognition by independent authorities allows potential clients to navigate the different internet marketers and select a company that best fits their particular needs. Topseos.com is one such independent reviewer. Topseos.com focuses on analyzing internet marketers based upon several criteria. Topseos.com criteria include on-page optimization, off-page linking, reporting, conversion rate optimization, communication, and the client's return on investment.
Topseos.com rates on-page optimization looking at the basics of Search Engine Optimization, such as correctly labeled title tags, URL structure, Meta descriptions, alt tags, etc. However, beyond the basics of Search Engine Optimization that every website should have, topseos.com also looks at the content, the quality of the information presented to the visitors, ensuring that the internet marketer is providing quality on-page content that will assist the business in ranking for appropriate keywords. Another benchmark of on-page evaluation is and how engaging the content of a website is and the conversion rate. A good website will not only be relevant to the subject matter, but also overcome potential objections and result in sales. When evaluating on-page internet marketing, topseos.com assesses conversion rates and ranks internet marketers accordingly. Content that cannot sell is worthless to websites and topseos.com ranks internet marketers accordingly.
Off-page linking has come under a lot of scrutiny since Google rolled out the "Penguin update", which primarily targeted "unnatural" or "bad" links. When evaluating the difference between a legitimate "white hat" internet marketing company, and a "black hat" company look no further than the manner in which the company secures links. "White hat" internet marketers will secure links through providing quality content, engaging websites, and being highly relevant to a website's particular industry or geography, depending on the nature of the business or the size of the company. "Black hat" internet marketing companies will build and buy links from any number of sources. As linking is one of the primary mechanics in which Google ranks websites it would seem that having a plentiful linking profile would only help websites, however this is not true. Google's Penguin update classified numerous links that exist only for the purposes of adding ranking value to websites, not based upon the nature of the website, but based upon trying to manipulate the Google algorithm. Because linking strategies can easily hurt a promising website's rankings, topseos.com focuses on how the internet marketing company provides links and rates companies based off acceptable "white hat" practices.
Communication and reporting is an important aspect of any marketing company. With all of the readily available data, internet-marketing companies should be regularly reporting progress and streamlined work. Disreputable internet marketing companies fail miserably at communication, obfuscating squandered funds and avoid reporting information on completed work. With this in mind, topseos.com rates internet marketers on their transparency and openness in communication.
As Netmark has grown, they have implemented the best practices, and, further, put them into useful and profitable application. Netmark.com has been awarded a host of awards, month-after-month, year-after-year since their founding because of their quality work and adherence to sound principles of internet marketing. Netmark continues to grow and look to the future, providing the best practices, experiences, and ability to their clients.