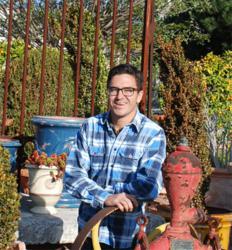 Santa Barbara, California (PRWEB) March 27, 2013
Eric Jones started his career with his family's construction business, Peck/Jones Construction, a company notable for its rich portfolio of landmark construction projects across Southern California since the early 1900's including the Hollywood Bowl, the Capitol Records building, several airline terminals at LAX, the Beverly Hills Hotel, and a myriad of other historic buildings in the region. Eric's own experience includes implementation of major development projects for distinguished institutional and corporate clients such as Disney, the Los Angeles County Museum of Art, and Pepperdine University, as well as project development and management experience with renowned architects, designers and artists such as Renzo Piano, Zoltan Pali, Michael Heizer, James Turrell, Robert Irwin, and Jorge Pardo. Eric is also a licensed general contractor, owner of a boutique construction services company, and has a breadth of experience with multi-family and single-family residential projects in the capacities of construction field management, detailed administrative project leadership, client communications, and corporate-level operations.
After a year-long sabbatical from the construction business and some extended travels to New Zealand and South America in 2012, Eric was slated for Apple Computers' new multi-billion-dollar campus in Cupertino, CA. But the moment was ripe for change and he decided to make a move away from the construction industry to discover new challenges and avenues in his life and career. Having long-harbored a love of green spaces, garden artifacts, and garden design (Eric also worked at the Earl Burns Miller Japanese Garden in Long Beach while attending university and later managed the multi-million-dollar specimen-palm landscape installation at LACMA), he turned his attention to the garden design world. Brent Freitas was a family friend and business partner of many years; the two were introduced at the beginning of 2013, and it became immediately clear that Eye of the Day was an obvious fit for both parties.
As Director of Operations, Eric will be responsible for day-to-day management and administration of Eye of the Day, Inc. His mandate will be to continue growing Eye of the Day's outstanding reputation for customer service and satisfaction.