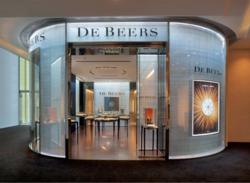 We are delighted to welcome Jeanne to De Beers. She is an extremely talented luxury retail leader, who understands how to develop and build sought-after brands.
London, U.K. and Shanghai, China (PRWEB) March 25, 2013
De Beers Diamond Jewellers today announced that Jeanne Wang has joined the Company as Managing Director of its China business. Ms. Wang is a highly respected retail executive with a wealth of experience in international luxury business management, having spent the past 16 years with Chanel - most recently serving as the General Manager, Chanel Fashion Division, China.
Francois Delage, CEO of De Beers Diamond Jewellers, said, "We are delighted to welcome Jeanne to De Beers. She is an extremely talented luxury retail leader, who understands how to develop and build sought-after brands. De Beers entered Mainland China in 2011 and Jeanne's appointment is a strategic hire to strengthen our position in this key market, as we look to develop and grow the brand in China."
Ms. Wang commented, "I am thrilled to join De Beers - one of the world's most iconic brands, with great potential for strong growth in China. I am honoured to bring to life this unique brand; known for its diamond mastery since 1888 and is synonymous in China with the famous line "A Diamond is Forever." I look forward to sharing this unique brand with our Chinese clients who will no doubt appreciate the outstanding beauty of our diamonds and the wondrous artistry of our design collections."
Before joining De Beers, Ms Wang was the General Manager of Fashion Division, Chanel China, and a member of the Chanel Executive Management Committee for China, having held positions of increasing responsibility during her 16-year career with Chanel. Ms. Wang was instrumental in building Chanel in China, including the fashion, watch and fine jewellery business. Prior to Chanel, she had acquired significant retail operation experience as the Brand Manager for Max Mara.
Ms. Wang obtained her degree in English Literature at Fu-Jen Catholic University in Taiwan and her AAS Fashion Design and Merchandising at FIT, New York. She also holds a PED degree from IMD, Lausanne.
For further information, please contact:
Jennie Farmer
Brand Director
jfarmer(at)debeers(dor)com
Kun Zhang
Press & PR Manager, China
kzhang(at)debeers(dor)com
NOTES TO EDITORS
THE DE BEERS DIFFERENCE
De Beers, the Jeweller of Light, creates timeless treasures that reveal and celebrate the wondrous brilliance of women and diamonds. As the definitive destination for diamond jewellery, we have a quest for inner beauty, bringing lightness, femininity and delicacy to our sublime diamond jewellery.
Drawing on diamond mastery since 1888, De Beers hand-select each diamond for its unique beauty to capture unmatched Fire, Life, and Brilliance. Each unique De Beers creation is the culmination of wondrous artistry and the true beauty of the finest diamonds.
De Beers is proud to be the only brand to demonstrate the beauty of its diamonds, using the De Beers Iris. This proprietary technology, found in each De Beers store provides clients with an objective way to see the beauty of their diamond through the eyes of an expert.
THE DE BEERS GUARANTEE
Each piece of De Beers jewellery is certified with a De Beers passport and each polished diamond above 0.20 carats is microscopically branded with the De Beers Marque. The De Beers Passport documents the specifications of your diamond jewellery and is your guarantee that every single De Beers diamond is natural, untreated, conflict-free and responsibly sourced and crafted. The De Beers Marque, using technology patented by the De Beers Group, is invisible to the naked eye and ensures that each diamond is individually catalogued in the De Beers diamond registry, confirming its identity as a De Beers official diamond, to provide clients with a total peace of mind.
DE BEERS DIAMOND JEWELLERS
De Beers Diamond Jewellers was established in 2001 as an independently managed and operated company by LVMH Moët Hennessy Louis Vuitton, the world's leading luxury products group, and De Beers SA, the world's premier diamond mining and marketing company.