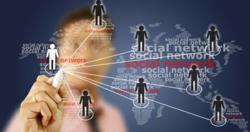 Members businesses can accelerate their growth by utilizing tools only available to them.
Washington, D.C. (PRWEB) March 23, 2013
The goal of all businesses is to reach as many consumers as possible, but few companies have the resources to develop the marketing strategy they desire. In the modern economy businesses need to be providing added assurances their products and service is superior to those of their competitors. While the traditional approach is to slowly build a network of consumers and business partnerships that will grow over time, that method is hardly conducive to fast growth.
With the assistance of SD-SBN, member businesses can accelerate their business growth by utilizing tools only available to them. Displaying the SD-SBN Certified Business Web Seal lends immediate reliability to a business, and connecting a business website to the SD-SBN further enhances that credibility. SD-SBN members may also promote their company through the authoritative U.S. Business Almanac, one of the country's most trusted business and member directories.
Online Resources:
One of the most valuable tools that SD-SBN members have available to them is the ability to connect their website to the national State Business Network. Connecting to this prestigious network of professionals and companies not only presents new opportunities to connect with thousands of new businesses, but also millions of new customers. Most importantly, the respect and authority that are synonymous with the South Dakota State Business Network is immediately transferred to the partner site.
The South Dakota State Certified Business Web Seal may be prominently displayed by partner sites, further enhancing dependability. Sites that display the Seal have been proven to have a 20 percent higher conversion rate as well as a diminished abandonment rate.
Print Resources:
The U.S. Business Almanac is a nationally recognized compendium of biographies of State Business Network members. This directory is only available to government agencies, members and select corporate entities.
About South Dakota State Business Network:
South Dakota State Business Network (SD-SBN) is a career and business development program established to promote job growth, commerce and networking. It is equipped with the tools, expertise and connectivity to help businesses expand their influence while forging strategic alliances necessary to attain higher levels of achievement. With its integrated infrastructure, SD-SBN holds a powerful online platform for building fundamental connections on a local, state and national scale.