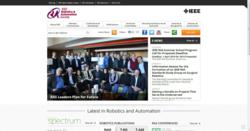 "If responsive design is not a serious consideration for your website, you really aren't putting your customers first." – Britton Shinn – Senior Digital Strategist, D2 Creative
Somerset, NJ (PRWEB) March 25, 2013
D2 Creative launches a new website for the Institute of Electrical and Electronics Engineers' (IEEE) Robotics & Automation Society (RAS). The site features a responsive design to serve as a mobile-optimized, modernized reflective of the organization's leadership in the field of robotics and automation engineering science.
"The RAS redesign presented an interesting challenge for D2: design and build a technology-forward website while preserving and integrating a legacy backend system the Society has relied on for years to do business." – Robert Kovacs, Senior Interactive Project Manager, D2 Creative
D2 Creative worked with volunteers and staff members to complete their first project with RAS. One of the site's exciting, user-friendly features is its ability to adapt to smartphones and tablets. Developed with a responsive design, the new RAS site adjusts to display optimally on different screen sizes. The agile site enhances the web presence of RAS, reformatting content to improve user experience based on their preferred device.
"If responsive design is not a serious consideration for your website, you really aren't putting your customers first." – Britton Shinn – Senior Digital Strategist, D2 Creative
Designed to reflect the progressive character to the Society, the RAS site prominently features recent articles from robotics publications like RAM, T-RO, and T-ASE, IEEE Spectrum articles and blog posts, and RAS conferences and events. The backend of the site features a robust content management system, designed to support content editors around the globe. Persistent social media options further encourage the organization's 9,000+ members to engage and share ideas.
IEEE is the world's largest professional association for the advancement of technology and a long-standing client to the NJ-based digital agency. IEEE RAS strives to advance innovation, education, and fundamental and applied research in robotics and automation.
For more information on the society, or to see a complete list of RAS-related conferences and publications, visit http://www.ieee-ras.org/.
D2 Creative is a digital agency specializing in creative, marketing and technology solutions for B2B, B2C, Healthcare, Technology and Nonprofit organizations.
# # #
If you would like more information about this topic or D2 Creative in general, please contact Carrie Plantamura at 732-507-7441 or email at info(at)D2creative(dot)com.