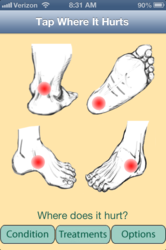 Lewisburg, PA (PRWEB) March 25, 2013
A group of 16 Bucknell University students has teamed up with an orthopedic surgeon to develop a mobile app that helps patients recognize symptoms, common treatments and typical stages of recovery for several foot and ankle injuries. Bucknell Professor of Computer Science Xiannong Meng and orthopedic surgeon John Furia conceived the idea. The students built the application in Meng's Computer Science Design Project class.
"This was one of the times where the professor knew less than the students," Meng said. He and the students pointed out that they learned a lot about the app-making process from each other. "We came up with ideas that would cover what Dr. Furia wanted to do, but also what we could or could not do," he added.
The app, called Heel Thy Tendon, focuses on four regions on the foot and ankle that are common problem areas: Achilles tendinopathy; planter fasciopathy; posterior tibial tendinopathy and peroneal tendinopathy. The user chooses the picture that represents the area where pain or injury is, and a series of prompts offers suggestions on what the injury might be. There is also a camera feature so users can visually document their conditions.
In order to reach as many potential users as possible, the new app was developed for multiple smartphone platforms. The 16 students were broken into three teams: one to work on an iPhone app, another for Android and athe third to create a hybrid HTML5 version that could be used on either platform or on a web browser.
The student teams discovered that building an app takes more than just good coding skills. "Dr. Furia provided all of the documents for us to use, but it was up to us to arrange them in the way that they would be best viewed," explained Bucknell senior Dana Germano, who worked on the iPhone version of the app. "We had to be knowledgeable with the material to be able to do that. We discovered there is so much to think about that you never worry about when you just open up an app."
Heel Thy Tendon is available free from Apple's App Store and Google Play.
About Bucknell University
Founded in 1846 and located along the banks of the Susquehanna River in historic Lewisburg, Pa., Bucknell University is the largest and one of the most highly ranked liberal arts universities in the country. Students can choose from more than 110 majors and minors in the arts, engineering, humanities, management, and social and natural sciences, as well as extensive global study, service-learning and research opportunities. Bucknell's 3,500 undergraduate and 100 graduate students from across the world enjoy a low 10-to-1 student-faculty ratio and 150 students clubs and organizations plus 27 Division 1 athletic teams.