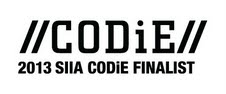 New York, NY (PRWEB) March 25, 2013
Pearson topped the 2013 Software & Information Industry Association (SIIA) CODiE Awards for education with 14 programs earning finalist honors. The wide array of K-20 products and services are proven examples of the power of digital and mobile technologies to transform teaching and learning.
Established in 1986, the CODiE Awards celebrate outstanding achievement across the software, digital information and education technology industries. This year, nominated ed-tech products underwent an intensive review by educator judges from around the world.
From classroom management and teacher professional development to virtual and mobile personalized learning solutions, Pearson's 14 CODiE finalists are a testament to its commitment to developing innovative education technology solutions that improve student achievement. The finalists include:

digits - Best Mathematics Instructional Solution
Pearson iBook2 Textbooks - Best Educational Use of a Mobile Device
EQUELLA - Best Postsecondary Enterprise Solution
Pearson Compass Suite - Best Professional Learning Solution for Education
Lab Investigator Tools - Best Science/Health Instructional Solution
OpenClass - Best Postsecondary Learning Solution; Best Postsecondary Course or Learning Management Solution
iLit - Best Educational Use of a Mobile Device
PowerSchool - Best Classroom Management Solution
MyFoundationsLab - Best Virtual Learning Solution
MyMathLab with Knewton Adaptive Learning - Best Postsecondary Personalized Learning Solution
Prep for the GED Test: MyFoundationsLab Edition - Best Student Assessment Solution
Propero - Best Postsecondary Personalized Learning Solution
Schoolnet - Best Student Assessment Solution; Best K-12 Enterprise Solution
MyEconLab with Knewton - Best Postsecondary Personalized Learning Solution
Pearson's finalists will now be voted on by the entire SIIA membership to determine the winners in each category. The 2013 CODiE Award winners will be announced at the 2013 Ed Tech Industry Summit in San Francisco on May 6.
About Pearson
Pearson, the world's leading learning company, has global reach and market-leading businesses in education, business information and consumer publishing (NYSE: PSO).
Contact:
kate.miller(at)pearson(dot)com – 1.800.745.8489