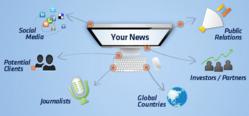 SD-SBN is now offering a comprehensive Multi-Media Promotions Package.
Washington, D.C. (PRWEB) March 23, 2013
Developing a comprehensive marketing strategy that includes major platforms like social media, videos and news articles is a daunting task for even extremely well-resourced companies. The expertise and resources necessary to effectively market a company on these various platforms is something that few businesses possess, and hiring a marketing firm that is capable in all of these areas can be quite expensive.
In order to assist its members find more new customers, SD-SBN is now offering a comprehensive Multi-Media Promotions Package. This new program will develop the press releases, videos and websites that will facilitate new customer acquisition and business growth. The marketing experts will produce high quality products designed to increase brand visibility and push member websites up to the top of search engine rankings.
Search Engine Optimization:
SEO is a priority for all businesses operating online. SD-SBN utilizes the latest SEO techniques to create videos and press released that will appear on the first page of results for the major search engines including Google and Bing. When new customers seek out member information the first items they will encounter are high production value videos detailing member accomplishments as well as news items describing their personal histories and that of their companies.
Marketing Platforms:
In addition to obtaining access to the exclusive SD-SBN network with thousands of prestigious companies and professionals, members will also have access to expert marketers who will help set up accounts and websites on Facebook, LinkedIn, and YouTube. By producing a professional presence on these important social media sites, members will be able to reach millions of visitors and develop new communities of followers.
Each member will also receive a Personalized Action Website on SD-SBN, which will communicate the most important facts about their careers, companies and affiliations. These compelling sites are designed to engage customers and drive them to visit member homepages.
About South Dakota State Business Network:
South Dakota State Business Network (SD-SBN) is a career and business development program established to promote job growth, commerce and networking. It is equipped with the tools, expertise and connectivity to help businesses expand their influence while forging strategic alliances necessary to attain higher levels of achievement. With its integrated infrastructure, SD-SBN holds a powerful online platform for building fundamental connections on a local, state and national scale.