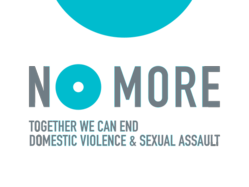 "As family law attorneys, we are very supportive of any and all efforts to put an end to domestic violence in North Carolina." - Jennifer Paternostro, Associate
Charlotte, North Carolina (PRWEB) March 22, 2013
On March 18, 2013, USA Today reported that The No More Project, an international campaign to raise awareness of the issues of domestic violence and sexual assault, has been garnering national attention after introducing their symbol at a recent Capitol Hill briefing. The symbol is a bold circle set into the phrase "No More", representing the goal of completely eradicating domestic assault and abuse. Since its introduction, the symbol has been worn by Vice President Joe Biden, and has appeared on NASCAR driver Amber Cope's car and on Law & Order: SVU. The campaign has also gained high profile sponsors and spokespeople, including Tim Gunn of Bravo's reality show Project Runway.
According to USA Today, The No More Project highlights the importance of bringing awareness to domestic violence and ensuring that the public is conscious of their rights when it comes to domestic violence and abuse. Family law attorneys are especially mindful of the need to continue educating others on their rights regarding domestic violence. According to the attorneys at Miller Bowles Law, the first step in educating others about their rights in this area is to ensure others know exactly what constitutes domestic violence. In North Carolina, acts constituting domestic violence must be committed by a person with whom the aggrieved party has or has had a personal relationship. A "personal relationship" refers to the following relationships: current or former spouses; persons of the opposite sex who live together, have lived together, or have been in a dating relationship; parents and children; persons with a child in common; or, current or former members of the same household.
Once abuse is classified as domestic violence, there are many options available to the victim of this abuse. Per North Carolina law, victims of domestic violence have the right to ask the Court to enter an order that forbids their abuser from having contact with them for up to one year. The Court can also award the victim of domestic violence possession of the residence, temporary child custody, financial support, possession of a vehicle, and attorney's fees. Once a North Carolina court issues a domestic violence order of protection, the victim may ask the Court to renew it for up to two years upon the expiration of the original order. If the abuser violates the terms of the domestic violence order of protection, he or she can immediately be arrested for violating the order. Violating the order includes directly or indirectly contacting the victim or committing another act of abuse of threat of abuse. The domestic violence order of protection in North Carolina can be enforced by filing a motion for contempt, and by criminally prosecuting the act of domestic violence if it violates any criminal statute.
Campaigns such as The No More Project are crucial in not only furthering the fight war against domestic violence and abuse, but also ensuring that victims of domestic violence and abuse are heard and are able to seek aide. In addition to seeking the help of charitable groups and organizations focused on domestic violence, victims of domestic violence should also speak with a family law attorney about their legal rights and recourses. A family law attorney can help the victim take a legal stand against their abuser and move forward with their life in a positive manner.
Miller Bowles Law is a full-service Charlotte Family Law firm located in the historic district of Dilworth in Charlotte, North Carolina. The attorneys at Miller Bowles Law have over 15 years of combined experience in representing clients in Charlotte family law cases and family law cases in surrounding counties including Union, Gaston, Iredell, and beyond. Our mission, simply stated, is to provide the highest-quality legal representation to our clients so that each feels supported and well-prepared to face the family law court system.