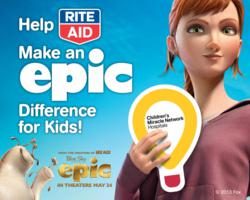 "We're delighted to invigorate our campaign with the lively characters and colorful imagery from EPIC. A movie that celebrates the smallest heroes fits perfectly with our mission to save the smallest heroes—courageous children fighting for their lives."
Salt Lake City, UT (PRWEB) March 26, 2013
Children's Miracle Network Hospitals was announced today as the national charity partner of the new animated adventure, EPIC, from Fox Animation and Blue Sky Studios. Heroes who save the day on the big screen will appear in the charity's spring campaign named 'Make an EPIC Difference for Kids,' inviting consumers to support real-life little heroes in children's hospitals across the nation.
EPIC's May 24 theatrical release date coincides with CMN Hospitals' May is for Miracles fundraising at various retailers nationwide. The animated characters from EPIC will appear in print and online ads, billboards, PSAs and on social media, inviting the public to support their local member hospital whenever they see the Miracle Balloon.
"People have come to recognize our yellow and red balloon as the symbol for hope, healing and improving local pediatric care," said John Lauck, president and CEO, Children's Miracle Network Hospitals. "We're delighted to invigorate our campaign with the lively characters and colorful imagery from EPIC, and to debut it at Rite Aid, a longtime partner and top fundraiser. A movie that celebrates the smallest heroes fits perfectly with our mission to save the smallest heroes—courageous children fighting for their lives."
"We are honored and excited to partner with Children's Miracle Network Hospitals on our big summer animated film 'EPIC'," said Zachary Eller, senior vice president, marketing partnerships & promotions at 20th Century Fox Films. "To be the first ever co-branded marketing campaign that CMN Hospitals has run in their history is a huge deal.  CMN Hospitals' work is vital to help the most vulnerable in our communities, and we are so happy to be part of their amazing efforts."
Rite Aid, one of the nation's leading drugstore chains and a top Children's Miracle Network Hospitals fundraising partner, will debut the 'Make an EPIC Difference for Kids' campaign theme. Now through May 11, Rite Aid associates nationwide will ask customers to purchase an EPIC-themed Miracle Balloon for a minimum $1 donation. All funds raised during the company's seven-week fundraising campaign will be directed to the local member hospital. Since 1994, Rite Aid has raised more than $56 million for Children's Miracle Network Hospitals.
"Rite Aid is proud to make an 'EPIC' difference in the lives of sick and injured children in our communities," said Ken Martindale, Rite Aid chief operating officer and president of The Rite Aid Foundation. "Our associates put forth an amazing effort to support CMN Hospitals each year and featuring EPIC will motivate us to raise even more money to help kids who need it most."
Children's Miracle Network Hospitals is celebrating 30 years of helping save kids' lives and more than $4.7 billion provided to its member hospitals. The majority of the charity's annual corporate fundraising takes place in May at participating retailers including Walmart, Sam's Club, Costco, Rite Aid, Chico's FAS and Carmike Cinemas, among others.
About EPIC
EPIC is a 3D CG adventure comedy that reveals a fantastical world unlike any other. From the creators of ICE AGE and RIO, EPIC tells the story of an ongoing battle between the forces of good, who keep the natural world alive, and the forces of evil, who wish to destroy it. When a teenage girl finds herself magically transported into this secret universe, she teams up with an elite band of warriors and a crew of comical, larger-than-life figures, to save their world…and ours.
About 20TH Century Fox Film
One of the world's largest producers and distributors of motion pictures, 20th Century Fox Film produces, acquires and distributes motion pictures throughout the world. These motion pictures are produced or acquired by the following units of 20TH Century Fox Film: Twentieth Century Fox, Fox 2000 Pictures, Fox Searchlight Pictures, Fox International Productions, and Twentieth Century Fox Animation.
About Rite Aid
Rite Aid Corporation is one of the nation's leading drugstore chains with more than 4,600 stores in 31 states and the District of Columbia and fiscal 2012 annual revenues of $26.1 billion. Information about Rite Aid, including corporate background and press releases, is available through the company's website at http://www.riteaid.com
About Children's Miracle Network Hospitals
Children's Miracle Network Hospitals® raises funds for 170 children's hospitals across the United States and Canada, which, in turn, use the money where it's needed the most. When a donation is given it stays in the community, helping local kids. Since 1983, Children's Miracle Network Hospitals has raised more than $4.7 billion, most of it $1 at a time. These donations have gone to support research and training, purchase equipment, and pay for uncompensated care, all in support of the mission to save and improve the lives of as many children as possible. Learn more at CMNHospitals.org.