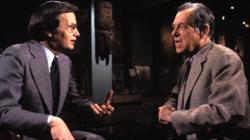 Water is the key to sustainable development, we must work together to protect and carefully manage this fragile, finite resource
Asheville, NC (PRWEB) March 22, 2013
The Asheville Jung Center would like to provide awareness of a complimentary offer from Bill Moyers that expires March 22nd where you can download for free and listen to the entire audio series of Joseph Campbell's "The Power of Myth". The Asheville Jung Center thanks Ms. Esther Waldron of the The Depth Psychology Alliance for bringing attention to this. The Asheville Jung Center was founded in 2008 to advance the psychology of Carl Jung and promote an international Jungian community. It is affiliated with innerQuest Psychiatry and Counseling, a regional psychiatrist group.
Everyone is also encouraged to remember that today is World Water Day. Secretary General Ban Ki-moon expressed the following sentiment, "Water is the key to sustainable development, we must work together to protect and carefully manage this fragile, finite resource." The Asheville Jung Center is pleased to be presenting "Elixir of Life: The Flowing Waters of Our Soul and Our Planet on Thursday April 4th from 11:00AM to 2:00PM Eastern Standard Time (and as always available for later viewing). Experts Murray Stein and Brigitte Egger will discuss the burning issues with clean water supply. Can the planet sustain the use of water that humans require, or is the burden too great, the pressure on the earth too extreme? Can individuals even in these hectic times find ways to bathe their souls in the waters of life? These are critical questions that impact every corner of the world today.
This focus of this year's World Water Day is the International Year of Water Cooperation. This is a fitting tribute to our growing awareness that this "Elixir of Life" is a shared resource. Consider the many sacred bodies of water around the world like the Ganges River, the Jordan River, the Amazon, Lake Titicaca, the Yellow River, the Yangtze River, the Nile River, The Rio Grande, and Europe's Volga and Danube Rivers. These rivers not only supply the people with the vital waters that support life but also the vital stories, myths, and symbols that nourish soul work. Register for the conference (CEU available) at this link.
If you are blessed to have clean water take a moment today to be thankful and call to mind the many people who do not have such a simple yet vital, life sustaining things as clean water.