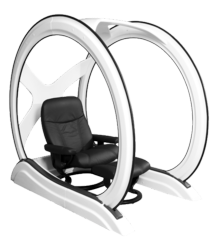 Clearwater, FL (PRWEB) March 25, 2013
Magneceutical Health™, manufacturer of The Magnesphere™ Magnetic Resonance Therapy device is pleased to announce it has signed an alliance agreement with The Masters Circle, experts in leadership coaching and practice building for chiropractors and creators of Identity-Based Coaching™.
Magneceutical Health is a health and healing device development company that manufactures electromagnetic resonance therapy devices used to not only relax and address symptoms of pain, stiffness and sleep but to also help patients function at their highest level and express optimal health and well-being. The Magnesphere device uses patented electromagnetic technology to provide a "cloud based" therapeutic system to assist the chiropractic industry to consistently produce better clinical outcomes.
Allen Braswell, President of Magneceutical Health says that, "Backed by over 25 years of research and development, Magneceutical Health has led the way in electromagnetic resonance health care with thousands of patients treated, and has proven the Magnesphere's efficacy with a wide variety of conditions faced by Chiropractors on a daily basis. The Masters Circle mirrors our forward thinking mentality, with a strong conviction for helping Chiropractors lead the way in providing proven, natural care and sound business opportunities and we are very excited to be delivering a revolutionary opportunity to members and friends of The Masters Circle."
"Magneceutical Health has proven itself to be a company driven to providing real solutions for Chiropractors and their patients with the same conviction and know-how as the team here at The Masters Circle," says Dr. Bob Hoffman, President of The Masters Circle. "The Magnesphere™ device is an all natural modality that marches in lock step with the root philosophies of Chiropractic, adjusting patients at the molecular level while addressing the business challenges of Chiropractors today and in the future. We are proud to award the Magnesphere our highest recommendation."
For more information about The Magnesphere™ or Magneceutical Health™, please contact Steve Frischman at (727) 399-6850, or visit their website at: http://www.magneceutical.com. Don't forget to mention The Masters Circle to receive best pricing and promotions available. If you are emailing, add "The Masters Circle" to the subject line.