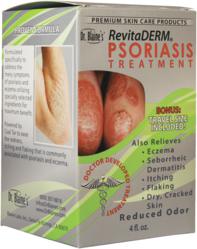 Santa Fe Springs, CA (PRWEB) March 25, 2013
As an addition to the Dr. Blaine's® line of retail skincare products, with the flagship product being Tineacide Antifungal Cream, Blaine Labs continues to support those suffering from skin-related ailments with the launch of a new psoriatic skin cream called RevitaDERM Psoriasis Treatment.
"I have seen first hand the suffering caused by chronic plaque psoriasis. I wanted to create something that really worked, and was affordable. This is why I created RevitaDERM Psoriasis Treatment. I guarantee that it will work for you, or you get your money back."

Dr. Robert Blaine, President and CEO, Practicing Podiatrist $ Foot and Ankle Surgeon
In order to support the nearly 7.5 million psoriasis sufferers in the Unites States, Blaine Labs has created a front-line, topical psoriasis treatment. Psoriasis is the most prevalent autoimmune disease in the United States, and is not just a cosmetic problem. Nearly 60 percent of individuals with psoriasis reported the disease to be a large problem in their everyday life. Total healthcare costs of psoriasis for patients are calculated at $11.85 billion annually. This is why Blaine Labs is offering a proven, doctor-developed treatment at an affordable price.
RevitaDERM Psoriasis Treatment is formulated specifically to address the many symptoms of psoriasis and eczema, RevitaDERM Psoriasis Treatment is 100% Guaranteed to stop the itching, flaking and redness caused by psoriasis. This cream has a smooth, creamy texture without the usual unpleasant odor that comes with normal psoriatic treatments.
Blaine Labs is a leading manufacturer and distributor of dermatological products for the medical, retail and cosmetic markets. Our goal is to identify medical problems that do not respond well to present medical treatments, and then develop a better, proprietary formula to enhance individuals' lives. All Blaine Labs' products are guaranteed and manufactured within our facility located in Santa Fe Springs, California. Blaine Labs has a handpicked, professional staff with decades of experience in all disciplines of the medical and pharmaceutical industries. We offer our customers guaranteed, proven solutions to their skin ailments at an affordable price.
To learn more, visit: http://www.drblaines.com and Blaine Labs' YouTube page at: http://www.youtube.com/watch?v=FpsRaHSK-ng