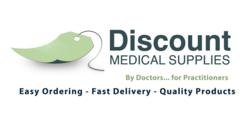 We are committed to providing the highest level of customer satisfaction, and we offer the necessary resources to help make informed purchasing decisions
(PRWEB) March 26, 2013
As a pioneering online resource, the new website DiscountMedicalSupplies.com provides medical supplies to patients and practitioners at discount prices. But it also offers live customer service help from physicians.
Discount Medical Supplies, a rapidly growing medical superstore, offers a unique online experience to patients, caregivers and practitioners. In addition to providing the lowest available prices, it also offers live product help from doctors and a highly-trained staff.
"We are committed to providing the highest level of customer satisfaction, and we offer the necessary resources to help make informed purchasing decisions," says Dr. Jon Segal, the owner of Discount Medical Supplies. He says the website will soon host more customer reviews to provide more information to patients about specific products.
Discount Medical Supplies offers products related to pain relief, wound care, diabetes, incontinence, rehabilitation, orthopedics, mobility aids, massage, acupuncture, fitness, bathroom safety and clinic supplies. In addition to servicing patients and practitioners, Discount Medical Supplies also ships to distributors and wholesalers.
For practitioners, Discount Medical Supplies also offers video webinars, classifieds, product reviews and an educational video library. The website provides medical products for a variety of uses, including chiropractic and physical therapy.
Discount Medical Supplies is designed to provide efficient browsing, easy ordering, fast shipping, and low prices. "Let us know if you find a better price - we will either meet or beat that price," says Dr. Segal. The website also offers free shipping on all orders over $100 in the continental U.S., as well as daily specials.
About Discount Medical Supplies:
Discount Medical Supplies is a medical equipment and supply company operated by physicians. It offers the highest quality medical supplies to practitioners, patients, caregivers, and families at the lowest available prices. It also provides easy ordering and fast delivery. To see what Discount Medical Supplies can do for your business, visit http://www.discountmedicalsupplies.com.