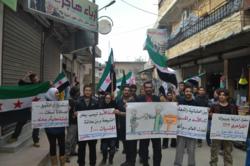 Washington, DC (PRWEB) March 22, 2013
Young Syrian Americans representing six different states in the U.S. have returned from a week-long humanitarian visit to Syria and Turkey. They delivered over $100,000 in aid through the Syrian Sunrise Foundation, a nonprofit humanitarian organization, to Syria and refugee camps in Turkey.
The activists – who are from Michigan, Indiana, Illinois, Florida, California, and Texas- witnessed devastating conditions in the camps and horrific airstrikes in civilian areas by the Assad regime. They traveled into war-torn Aleppo and witnessed six continuous hours of rocket bombardment while in Kafranbel.
"The humanitarian situation in war-torn Aleppo is beyond imagination," said trip organizer and SAC board member Kenan Rahmani. "Trash is piled in the streets and children dig through dumpsters for food. Disease is spreading and it will only get worse as summer nears. While we were distributing food baskets in Aleppo, rockets and mortars were being launched near our teams on the ground. We were only able to distribute food for around 25% of the residents of the hardest hit area in Aleppo."
Before the activists departed, they raised funds online, competing with each other to raise the most money in order to purchase humanitarian aid such as food baskets, clothing, and medicine. The activists each covered their own personal expenses, so the money raised went entirely to buying aid supplies.
This was the second organized trip by SAC in which young activists go to liberated Syria on a humanitarian mission. Over the winter break, a group traveled to refugee camps and liberated villages on a humanitarian aid mission and to see how their work in the U.S. can be improved to better support the people on the ground.
Join us on Thursday, March 28 at 9:00 p.m. ET for a SAC Talk webinar to hear directly from the activists. Click here to reserve your webinar "seat". Stay tuned for upcoming information about other events and speaking engagements to hear the activists about their experiences.