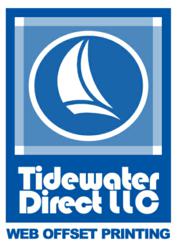 Centreville, MD (PRWEB) March 26, 2013
Tidewater Direct reported that its six-unit Sunday 2000 press has now been online and operational for over a month. The press, located at its Centreville, Maryland facility, will be used primarily for direct mail printing such as generic inserts, buck slips, and self-mailers. The press is a powerful engine that will compliment the Centreville facility as it operates a bindery with four guillotine cutters and 12 folders. The press room and bindery are staffed 24 hours per day, six days per week.
The web offset printing press is set to deliver up to a 38" wide by 22.25" into a sheeter. With six units, it's ideally suited for self-mailers and post cards that require four colors + a pms color + a varnish. Moreover, the press can effectively print 12 colors as six on each side of the substrate. Equipped with WPC and GMI auxiliary equipment to maintain register, web position and color, the Sunday produces web offset printing with a high level quality control. The extended web dryer ensures the press is well suited to print heavy coverage on coated stocks.
The press is unlike any of its predecessors in the Centreville pressroom. To ensure a smooth transition, Tidewater Direct hosted several weeks with an independent trainer to ensure that its operators were well-equipped with the tools and knowledge to run the press properly. Each pressman received a minimum of 80 hours of training on the press, not to mention many more hours in the installation.
Geoff Eisenberg, VP of Operations remarked, "The Sunday press represents a large leap in speed quality from what we were producing prior to its installation. We've quickly realizing the benefit of these improvements with some of the new work we've been able to produce. It can produce some impressive quality work that compares to sheetfed presses."
"Our clients have enjoyed high quality, high volume continuous forms printing coming from our Baltimore facility, American Direct since the installation of our three Sanden 1500 8 and 10 color printing presses. They have received high quality on low color high volume printing from our Centreville facility. Matching that quality level on high color high volume work in Centreville was an inevitable and important investment," said president, Ken Boone referring to the Sunday 2000. He elaborated to say, "While the installation became painful at times the quality and speed we're achieving with the press shows an optimal outlook. I'm very excited at what this press can provide our clients."