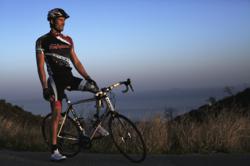 Santa Barbara, CA (PRWEB) March 24, 2013
A member of the Loma Linda University Team PossAbilities is the only physically-challenged athlete expected to compete in "Kendra's Race," the UC Santa Barbara Triathlon, set for March 30.
Andre Barbieri, of Santa Barbara, has worked with prosthetists at Loma Linda University Medical Center East Campus to develop a biking leg and a running leg that allow him to train and compete in paratriathlon events. Barbieri lost his left leg following a snowboarding accident in 2011.
He is a member of the Team PossAbilities "Road to Rio" program, which seeks to field a team of physically-challenged athletes to the Paralympics in Rio de Janeiro in 2016.
"This will actually be my first full triathlon, of which I'm pretty excited and also a bit scared. The running part is still a 'monster' for me, but I'm getting better every time," says Barbieri.
"It's important because this is my adopted town, it's a great challenge, and I swam and cycled this same event last year. I 'killed' on the ocean swim but not so great at cycling because I still had my regular leg. Let's see how I do with a specific cycling leg! It's important to say I'm the only challenged athlete that does this event. PossAbilities was well represented then and I'm going to represent it again."
"Kendra's Race" is the triathlon held at the UC Santa Barbara campus. The race is named after Kendra Chiota Payne, a former student who was killed in an accident while training.
PossAbilities is a community outreach program developed by Loma Linda University Center East Campus and supported by founding partner, the San Manuel Band of Mission Indians. PossAbilities' goal is to offer physically-challenged people born with or have permanent physical injury a sense of community by offering activities and practical help.
Photo Caption: Andre Barbieri, a Loma Linda University Team PossAbilities member, will compete in "Kendra's Race," the UC Santa Barbara Triathlon, set for March 30.
# # #
About Loma Linda University Medical Center (LLUMC) East Campus
Loma Linda University Medical Center East Campus is 23-acre campus dedicated to providing a healing environment that offers comprehensive inpatient and outpatient health-care services. East Campus includes a hospital with 134 licensed beds, two physician and diagnostic office buildings, and an ambulatory service center. Physical medicine and rehabilitation, orthopaedics, neurosciences, and family medicine services are the specialties incorporated into the overarching goal of East Campus.
About Loma Linda University Health (LLUH)
Loma Linda University Health includes Loma Linda University's eight professional schools, Loma Linda University Medical Center's six hospitals and more than 900 faculty physicians located in the Inland Empire of Southern California. Established in 1905, LLUH is a global leader in education, research and clinical care. It offers over 100 academic programs and provides quality health care to 40,000 inpatients and 1.5 million outpatients each year. A Seventh-day Adventist organization, LLUH is a faith-based health system with a mission "to continue the teaching and healing ministry of Jesus Christ."