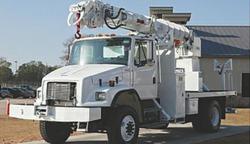 $2,500 in Savings!
Colona, IL (PRWEB) March 22, 2013
Bucket truck reconditioning experts I-80 Equipment Company, of Colona, IL have just announced the offering of an Altec D947BR Freightliner FL80 4X4 Digger Derrick Truck at $2,500 off the normal sales price. This Digger Derrick truck is regularly listed at $50,500.00 but is now being sold for $48,500.00 with free delivery on I-80 Equipments website. This low-mileage 2001 Freightliner FL80 4X4 Digger Derrick truck has recently been fully reconditioned to a like-new state.
This 2001 Freightliner FL80 has a low 67,698 miles on the odometer and has been equipped with a 7 speed manual transmission, a push button pto, four hydraulic outriggers and much more. With the versatility of a Digger Derrick and a 47-foot sheave height, this truck is the perfect option for digging holes, hoisting and setting utility poles, and lifting a variety of other materials.
Every Digger Derrick offered by I-80 Equipment is fully reconditioned and quality inspected to provide their customers with the most consistent value and quality in the industry.
In addition to the $2,500 in savings on this Altec Freightliner FL80 4X4 Digger Derrick, I-80 Equipment can help arrange for up to 100% financing and will work with all types of credit. Customers are able to fill out a secure online financing application to find out more information about custom financing options and more about I-80 Equipment's competitive rates.
I-80 Equipment Company was established in 2006 and has expanded into one of the nations top reconditioned utility truck companies.
I-80 Equipment
120 Walnut Lane
Colona, IL 61241
(Toll-Free) 888.949.3701
(Local) 309.949.3701
(Fax) 309.949.3760
(Email) info(at)i80equipment(dot)com