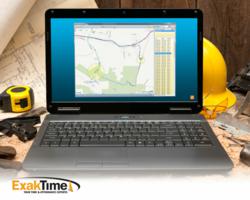 GeoTrakker really takes GPS tracking to the next level for contractors.
Los Angeles, CA (PRWEB) March 27, 2013
The votes are in, and ExakTime's GeoTrakker has been selected as Editors' Choice for the 2013 Most Innovative Product (MIP) Award program.
Utilizing ExakTime Mobile technology for Smartphones, GeoTrakker records the speed, direction and movement of every employee who is on the clock. Running in the background of an employee's Smartphone, GeoTrakker uses GPS technology to verify worker locations and to generate detailed location reports for business owners.
The tool has been found to be an effective resource for contractors. Frank Andreas, owner of Clemson Contracting, Alberta, Canada, implemented GeoTrakker into his ExakTime system in 2012 and said he relies on its location audit trail reports to keep his business efficient.
"I check my employees' locations several times a day," he said. "At 8 a.m., I look at the software and see who's clocked in and who's not. I start asking questions if people aren't where they should be. It's very beneficial."
ExakTime CEO Tony Pappas said his company prides itself on making powerful time tracking tools that are easy to use – and GeoTrakker fits that mantra.
"We're so proud that GeoTrakker has won the MIP Editors' Choice award," he said. "It's the newest addition to our ExakTime Mobile suite of products, and it really takes GPS tracking to the next level for contractors.
"It's something our customers have been asking for, and we couldn't be happier that it was recognized as one of the most innovative products for our industry."
Held annually at the World of Concrete trade show, the MIP Award Program allows attendees and readers of top industry publications a chance to vote for the products they judge as innovative. A panel of industry experts, many of whom serve on the World of Concrete Educational Advisory Board, reviewed and selected MIP award winners.
GeoTrakker won the Editors' Choice MIP Award in the Business Tools and Software category.
*****
Founded in 1999, ExakTime is the construction industry's leading time and attendance system in North America. As the leader in wireless, mobile and rugged timekeeping solutions, ExakTime systems are used every work day by more than 700,000 workers from dozens of industries in more than 120 countries. For more information, visit: http://www.exaktime.com.