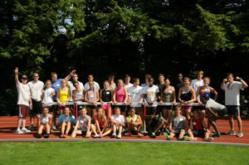 If you want to learn from the best in track and field today and take your skill and knowledge to the next level - don't miss this clinic. --- Latif Thomas, CompleteTrackandField.com
Boston, Massachusetts (PRWEB) March 26, 2013
CompleteTrackandField.com will present the 2013 Complete Track and Field Clinic at Harvard University on July 20 – 21, 2013, from 9am – 4pm each day. Registration is open!
CompleteTrackandField.com is proud to bring this clinic back for the third consecutive year. This clinic is for high school track and field sprinters, hurdlers, throwers, and jumpers between the ages of 14-18, and high school track and field coaches.
Last year's clinic was an overwhelming success with over 400 coaches and athletes coming from 26 different states as well as Canada, Sweden, Croatia, and the Bahamas. This year all events will meet both days, and to ensure each athlete gets enough individual attention, there will be a limited number of athletes accepted in each event group. With the attendance expected to grow again, it is important to sign up early. The event groups available are: sprints (55m, 100m, 200m, 300m, and/or 400m races), hurdles (55H, 100H/110HH and/or 300/400IH), jumps (long jump, triple jump, and high jump), and throws (shot put, discus and javelin). For coaches, there will be seminar style lectures, and they will not be restricted to attending any one event group. More staff will be added to ensure low staff to athlete ratios.
The cost for athletes (per session) is $199 (before 4/30/13) or $249 (after 4/30/13); the cost for coaches (both sessions) is $199 (before 4/30/13) or $249 (after 4/30/13).
According to Latif Thomas, from CompleteTrackandField.com, "The growth of the Complete Track and Field Clinic has been amazing. We are excited about our new venue and format as well as our champion coaching staff. If you want to learn from the best in track and field today and take your skill and knowledge to the next level – don't miss this clinic."
Please find answers to questions regarding the 2013 Complete Track & Field Clinic on the clinic webpage at http://www.CompleteTrackandField.com/clinic.
CompleteTrackandField.com is the resource for all things track and field fueled by the knowledge and experience of Latif Thomas. Thomas was the 2005 MA State Track Coaches Association Coach of the Year; holds a USA Track & Field Level II Certificate & USTFCCCA Event Specialist Certification – Sprints, Hurdles & Relays; Earned All IC4A, All Big East & All New England honors while attending the University of Connecticut on a track scholarship; and Coached: MA Class B & All State Championship Meet Record (girls 4×100), Class D Championship Meet Record (boys 4×200), Class C & Class D Championship Meet Records (boys 300m), 2004 MA All State Champion (55m), 2006 MA All State Champion (300m/400m),and 2008 & 2009 MA All State Champions (girls 4×100 & 4×200)
###