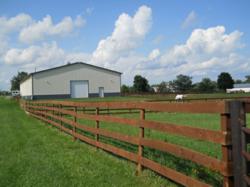 Today's market conditions and the auction format allow sellers and buyers to come to a meeting of the minds quickly with a competitively achieved fair market value
KANSAS CITY, Mo. (PRWEB) March 23, 2013
Qualified buyers will soon have the unique opportunity to purchase a luxury Illinois horse property on over 10 acres at auction prices.
Conducted by Richard Ranft – auctioneer, broker and owner of United Country — Beloit Auction & Realty of Wisconsin – the live auction will take place Sunday, April 28 at 1 p.m. on-site at 1912 Cherry Road near Oswego, Ill. Registration for this event begins at noon. Potential buyers can preview the property on Sundays, April 7, 14 and 21 from 1 to 2 p.m.
Located near the Illinois village of Oswego – and an easy commute to Chicago – this property features a 6,500-square-foot house, a 3,500-square-foot home office building, a 9,000-square-foot stable, plus fenced pastures and paddocks.
The custom home has a two-story living room with a unique fossil stone fireplace. The kitchen features granite countertops, high-end appliances, a breakfast bar and an espresso maker. The custom features continue into the 700-square-foot master suite, which offers dual walk-in closets, a sitting area, a whirlpool tub, a multi-jet shower and a spiral staircase leading to a private, multi-functional room. The home also includes a nine-seat theater, visitor suite with a full kitchen, a fitness room, a three-season sunroom, a four-car garage, plus a finished basement with a game room and an additional kitchen in the basement. Each floor houses separate heating and cooling systems on each floor. The exterior features brick, stone and stucco, as well as a Jacuzzi on the patio.
The two-story home office building is a short walk from the main house. It features two private offices, a bathroom, a snack bar and a kitchenette.
The equestrian facility includes five stalls, a limestone base, rubber matting, fans, automatic waterers, individual lighting, a tack room, a wash rack, a hay stall and a loft. Additionally, the property includes a top-of-the-line, indoor heated riding arena with professional Nike footing.
"Our seller recognizes the value of using an accelerated method of marketing – in other words, an auction – to sell their property," said Ranft. "What does this mean for buyers? It means they have the opportunity to purchase a luxury Illinois horse property at the price of their choosing. Today's market conditions and the auction format allow sellers and buyers to come to a meeting of the minds quickly with a competitively achieved fair market value. In times like these, an auction is the best way to establish what real market value is."
Detailed information about the property for sale, as well as details about the auctions, can be found online at BeloitAuction.com or by calling 877-364-1965. Only approved registered bidders will be admitted to auction.
About United Country
United Country Real Estate is the largest fully integrated network of conventional and auction real estate professionals in the United States and Latin America. The company has been an innovator in real estate marketing since 1925. United Country supports nearly 550 offices across the U.S., Costa Rica, Panama and resort areas of Mexico, with a unique, comprehensive marketing program that includes one of the largest portfolios of property marketing websites (more than 3,000 separate sites and traffic of approximately 3 million visitors per month), multiple United Country real estate catalogs and third-party lifestyle magazines with national distribution , an extensive buyer database and other national advertising of local properties that reaches more than 90 million homes per week. United Country has recently been recognized by Franchise Business Review, AllBusiness.com, The Land Report, Entrepreneur and The Wall Street Journal as one of the top U.S. real estate companies.