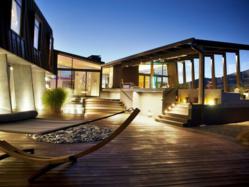 Austin, Texas (PRWEB) March 26, 2013
It's never the wrong time of year to add more living space to the home. TimberTown Austin wants to remind dreamers that taking a value-added approach by thinking beyond the back door and thinking about it now.
"Outdoor living space in Texas has become a priority among families who are looking to expand their recreational legroom," says TimberTown's Steve Anthony. "As a future deck owner, stop by the Deck Expo on March 6th to see how many different options a homeowner has in building a living space without the restrictions of walls, doors or windows."
"Why bother with trying to research each local vendor. TimberTown Austin has complied the perfect event that puts all of them right in front of potential buyers! The Deck Expo is designed for connecting homeowners with Austin area deck builders, contractors and home remodelers," Anthony explains.
Many people wait until midsummer to decide to install a deck. " TimberTown Austin is open for business year 'round, but this gives an outdoor space homeowner a chance to ask the questions, see the products and get quotes before the rush," the owner of TimberTown Austin says.
Bring the whole family. Anthony grins, "There will be food, fun and education so bring the kids and the pets to enjoy!"
A special feature at the Deck Expo will be a "live deck collapse." Anthony gets a twinkle in his eye when he thinks about this event, "Anyone interested in the construction of a new deck must see it to believe it!"
The TimberTown Deck Expo takes place on Saturday April 6th. Anthony reports, "The industry has undergone many changes over the years. Come see. These are not your father's decks."
TimberTown Austin
TimberTown Austin and OHC are thrilled to combine OHC's hardwood history with exceptional building products experience and to bring about TimberTown Austin, Central Texas' # 1 source for outdoor living lumber and building materials. OHC is one of the largest, if not the largest, hardwood decking importers in the United States.