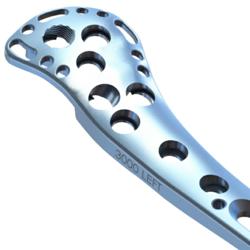 "The release of the AFT™ Fracture Plate gives surgeons a new option for patient care. Its unique design addresses some key issues for humeral fracture reconstruction that have previously been unavailable in the marketplace." John Kapitan, CEO
Waxhaw, NC (PRWEB) March 25, 2013
Shoulder Options Incorporated, a developer and manufacturer of orthopedic devices, announces the limited user release of its AFT™ Proximal Humerus Fracture Plate. The new plate is intended for the treatment of fractures and fracture dislocations, osteotomies, and non-unions of the proximal humerus.
"It is gratifying to see the culmination of our team's efforts. We have been fortunate to work with some of the top shoulder specialists in the country on this product" says John Kapitan, CEO of Shoulder Options. "The release of the AFT™ Fracture Plate gives surgeons a new option for patient care. Its unique design addresses some key issues for humeral fracture reconstruction that have previously been unavailable in the marketplace." The company also debuts its new website this week – http://www.shoulderoptions.com.
Shoulder Options, in partnership with Kapstone Medical LLC, is a team of surgeons and engineers who are committed to patient care through quality and innovation. The company's mission is to improve patient quality of life through the creation of state-of-the-art treatment options for conditions affecting the shoulder.