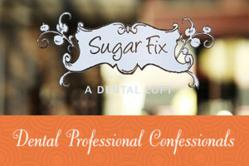 Chicago, IL (PRWEB) March 23, 2013
Sugar Fix Dental Loft will be producing a series of videos under the banner of "Dental Professional Confessionals," according to Chicago cosmetic dentist Jessica T. Emery, DMD. Dr. Emery will be appearing in the videos alongside practice manager Amy DeLassus and dental assistant Laney Judson.
Talks are currently underway with a local production company to create the videos, which would document the transformations of the three dental professionals as they undergo various cosmetic dental procedures. Unlike most dental videos, however, these "Dental Professional Confessionals" will have a contemporary edge, akin to popular reality programs such as Bravo's The Real Housewives – albeit with a vastly more positive tone.
While winking in the general direction of those drama-filled reality shows, the objective of "Dental Professional Confessionals" is to build an audience by producing videos that are as entertaining as they are informative.
"We're turning the tables on the usual testimonial videos," states Dr. Emery. "We're showing people that, yes, we are dental professionals, but we're also human and have the same cosmetic concerns as anybody else. And we'll also be able to give viewers an idea of what makes Sugar Fix different from the average dental practice. We do great work, but we don't take ourselves too seriously. We know how to have fun."
As part of the series, Dr. Emery will undergo KöR® teeth whitening and orthodontic treatment with the revolutionary Invisalign® system. DeLassus and Judson will both receive KöR® teeth whitening and porcelain veneers. In addition, DeLassus will receive BOTOX® Cosmetic injections, and Judson will add volume to her lips with JUVÉDERM® injections. Judson has already completed Invisalign® treatment.
"We want to create a genuine buzz," says DeLassus. "There are a lot of people out there who don't realize what cosmetic dentistry has to offer, and we're hoping to reach some of them in an entertaining, unique way."
"Unique" is an adjective often used by patients to describe Sugar Fix Dental Loft. From its soothing environment and spa-like amenities to its trademark pink-and-white sign that looks as though it should be outside of an old-fashioned candy shop, Sugar Fix has distinguished itself among dental practices in Chicago. Cosmetic dentist Jessica Emery believes, however, that it is she and her team who truly set Sugar Fix Dental Loft apart from other practices.
"One of the great things about Sugar Fix is that Amy, Laney, and I are able to change the way people think about dentistry," Dr. Emery says, smiling. "New patients come in with certain preconceived notions about what dentistry is, and they're usually not too flattering. But then they experience the luxury of our office and discover what it's like to work with a friendly team of professionals who really care about them, and they leave actually looking forward to their next visit."
The hope is that the "Dental Professional Confessionals" series will further help to change people's perceptions of what the dental experience can, and should, be.
For further information about Chicago cosmetic dentist Jessica T. Emery or the upcoming "Dental Professional Confessionals" series of videos, please email Sugar Fix Dental Loft or call (773) 883-1818.
Originally posted by Sugar Fix Dental Loft