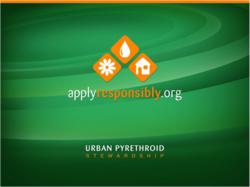 While water issues may be as diverse as the world's cultures, one common theme Californians share with the world community is the need to conserve and protect water supplies
Sacramento, CA (PRWEB) March 22, 2013
Today marks the United Nations' World Water Day and offers a great reminder for Californians to think globally but act locally when it comes to conserving and protecting the state's water supplies, Apply Responsibly officials said.
World Water Day is held annually on March 22 as a means of focusing attention on the importance of freshwater and advocating for the sustainable management of freshwater resources, according to the UN division of Educational, Scientific and Cultural Organization.
For the past five years, Apply Responsibly has promoted the need to safeguard California's waterways.
"While water issues may be as diverse as the world's cultures, one common theme Californians share with the world community is the need to conserve and protect water supplies," said Ann Orth, chair of the Urban Pyrethroid Stewardship, an industry alliance that created the Apply Responsibly program.
The stewardship group, comprised of the nation's leading pesticide industry companies, was established in 2008 as a way to inform California consumers about the important link between responsible pesticide use and safeguarding the state's water and the environment. Since then, Apply Responsibly has sponsored annual public awareness campaigns that have included mass transit, radio and online advertising, earned media, informational videos and participation in statewide environmental stewardship events.
Apply Responsibly reinforces many existing guidelines and established best practices, including, recommendations that consumers:

Always read and follow the pesticide labels and follow instructions for use, storage and disposal
Never pour any leftover pesticides down the sink, toilet, sewer or storm drain;
Do not stockpile pesticides. Buy only enough for one season;
Consider ready-to-use pesticides rather than products that need to be mixed if only a small area needs to be treated;
Take measures to conserve water in their home gardens and yards.
"By taking simple actions like these, Californians can do their part to honor the spirit of World Water Day in their own backyards," said Orth.
# # #
ABOUT
"Apply Responsibly" is a public awareness program funded by the Urban Pyrethroid Stewardship. Through http://www.applyresponsibly.org and educational materials, the industry alliance promotes the responsible use, storage and disposal of insecticides commonly used in the garden and outside home as a way to help protect California's water and environment. The following companies are members of the Stewardship: AMVAC Chemical; Bayer CropScience; Cheminova, Inc.; DuPont Crop Protection; FMC Corporation; Syngenta Crop Protection; and Valent BioSciences Corporation