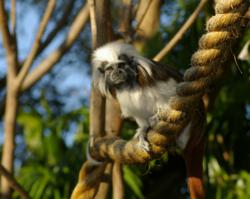 One of the most unique aspects of this exhibit and the animals that live there, are the mixing of species. - Victor Alm, Zoological Manager
Oakland, CA (PRWEB) March 26, 2013
On March 30, 2013, Oakland Zoo will open a new exhibit which features animals of the trees. The exhibit will consist of two types of animals, coatis, which are Oakland Zoo's newest species and cotton-top tamarins, one of the most endangered species in the world.
Victor Alm, Zoological Manager, states:
"One of the most unique aspects of this exhibit and the animals that live there, are the mixing of species. We [Oakland Zoo], will be managing the two species of coati (brown nosed coati and white nosed coati) separately at this time, but will be joining the brown nosed coati and cotton-top tamarin together as a mixed species group. To our knowledge, Oakland Zoo is the only zoo to manage these two species together or even to have attempted it."
This new exhibit has a wide range of features that highlights both the arboreal (treelike) and terrestrial (land) aspects of the coati and tamarin's natural history. The Animales de los Arboles exhibit is equipped with arboreal features such as nest boxes/shelters and perching rope, but also has pools, dig pits, plantings, and furniture on the ground level that serve the coati's terrestrial environment and behaviors such as foraging. In addition, there is enough space available to manage larger social groups, which is common for the coati species.
Coatimundi, also known as coati for short, are omnivorous mammals that eat fruit, insects, and eggs. They are curious animals and greatly resemble the raccoon family with their bushy tails and long snouts. Coatis are originally from Central and South America and inhabit mostly forest environments. This mammal is active during the day and will sleep in trees during the night.
The cotton-top tamarin, another animal featured in this exhibit, is among the smallest species of primate, weighing in at only one pound. This monkey gets its name from the fluff of white fur seen on their head and shoulders. Tamarins can be found in forest habitats in Central and South America. The cotton-top tamarin is diurnal, meaning they are most active during the day, and will rest safely in the treetops at night. Don't be fooled by the size of this primate, for they are capable of delivering a very loud territorial song or songs when excited. Due to the destruction of natural habitat, the cotton-top tamarin is critically endangered. This animal is the most endangered animal that currently resides at Oakland Zoo.
Conservation Connection:
Oakland Zoo supports ARCAS in Guatemala, a wildlife center that rescues, rehabilitates, and releases animals such as coatis. These animals were confiscated from smugglers attempting to sell them into the illegal pet trade. They also rescue parrots, macaws, monkeys, ocelots and jaguars and other Central American species.
ABOUT OAKLAND ZOO:
The Bay Area's award-winning Oakland Zoo is home to more than 660 native and exotic animals. The Zoo offers many educational programs and kid's activities perfect for science field trips, family day trips and exciting birthday parties. Nestled in the Oakland Hills, in 500-acre Knowland Park, the Zoo is located at 9777 Golf Links Road, off Highway 580. The East Bay Zoological Society (Oakland Zoo) is a nonprofit 501(c)3 organization supported in part by members, contributions, the City of Oakland and the East Bay Regional Parks. For more information please visit our website at http://www.oaklandzoo.org.
The East Bay Zoological Society has managed and operated both the Zoo and surrounding Knowland Park for the City of Oakland since 1982. Under its management, the Oakland Zoo presents an award-winning experience for visitors, fosters knowledge and understanding of animals and the environment through educational programs, and has earned national awards and international acclaim for its animal management and endangered species programs. Over the years, exhibit by exhibit, the Oakland Zoo has been reinvigorated and revitalized, making it a place where animals thrive and visitors enjoy. For more information, please visit our website at http://www.oaklandzoo.org. ###
Contact: Nicky Mora, Senior Manager, Marketing/PR
(510) 632-9525 ext. 130
nmora(at)oaklandzoo(dot)org