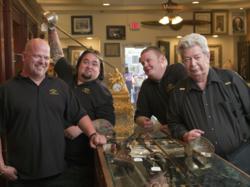 TAMPA, Fla. (PRWEB) March 22, 2013
Seminole Hard Rock Hotel and Casino Tampa is hosting History's Pawn Stars – Rick Harrison, Corey "Big Hoss" Harrison and Austin "Chumlee" Russell – for a free meet and greet on Saturday, April 6 from 2 p.m. to 5 p.m. at the WonderWall, next to Council Oak Steaks & Seafood. Players can also win big on the all-new Pawn Stars slot machines, based on the successful series that has become a worldwide sensation.
True to the TV show, the Pawn Stars game lets players wheel and deal with Rick, Corey, the Old Man and Chumlee. Players can sell in-game items to each of the guys, ask for a better offer, or even call in an expert. With a little luck, they can negotiate their way to some serious dough. The fun continues with even more features fans will love, including the Chumlee Video Bonuses featuring everyone's favorite character dressed up and dishing out credits. There are 11 different wheel bonuses to hit, and right from the get-go players can pick their favorite character, where all wins with the selected symbol are doubled in the base game and free games. It's the next best thing to being on the show. Head to Seminole Hard Rock Hotel & Casino Tampa and do some business with four of TV's biggest stars.
Rick Harrison and his father own the Gold and Silver Pawn Shop, the Las Vegas 24-hour family business empire as seen on the show. After 28 years in the business, Rick is an expert when it comes to spotting anything fake or stolen. As far as big-ticket items, he is the man for the job. Spotting a fake Cartier watch that most people would mistakenly purchase for $30,000 is just one of his many skills. Often acting as the middleman between his father and his son, he is the glue that holds this family and business together. Trained in the pawn business from the age of 13, he was born a hustler. With enough money to partner with his father at the age of 23, he never looked back.
Rick's son and business partner Corey began working at the pawn shop at age 9. Expertly trained in the art of appraisal, Corey not only has the brains to spot a cheat but the brawn to back it up. He is not afraid to throw his muscle around, especially when it comes to protecting his family. He also handles everything when it comes to hiring and firing employees, and managing eBay clients. Rick believes that Corey needs to earn his keep.
As Corey's devoted childhood friend, Chumlee is just like a son to Rick, and he's been around the shop since he was a kid. Everybody loves Chum, but he is often the butt of the boys' jokes. Part of the reason he isn't taken seriously is that he constantly begs Corey to buy items that entertain him like video games and circus paraphernalia that usually don't make good business sense. And, although his heart of gold makes him a pro at customer service, it's continually proven to be bad business for the shop. Chumlee always wants to give his patrons the best deal and often takes their side - a trait that never fails to push Rick's buttons. Where did Chumlee get his nickname? Friends in elementary school took the name from cartoon character Tennessee Tuxedo's sidekick, a walrus named Chumley.
About Seminole Hard Rock Hotel & Casino, Tampa
Seminole Hard Rock Hotel & Casino in Tampa recently completed a $75 million expansion, making it the world's sixth-largest casino, based on gaming positions or number of seats at a table or slot. This ultimate entertainment destination features 118 table games including Blackjack, Mini and Midi-Baccarat, Pai Gow Tiles and Poker, Three Card Poker and Texas Hold 'em Poker, along with over 5,000 slot machines and a smoke-free poker room with 50 tables offering high stakes action. The luxurious High Limit Table Games Room features 17 tables for blackjack and midi-baccarat and offers higher table limits, a personal cashier and attentive bartenders. For the sixth year in a row, the American Automobile Association (AAA) has awarded this 250-luxury room hotel its prestigious Four Diamond rating. Guests can enjoy a new pool area and restaurants including the Hard Rock Cafe Tampa, part of Hard Rock's 142 globally recognized rock 'n' roll themed restaurants, the award-winning Council Oak Steaks & Seafood Restaurant, and Rise Kitchen & Bakery™, which features freshly baked breads and entrees made with fresh ingredients. The new Asian gaming complex Jubao Palace features 17 table games and an accompanying 15-seat, quick service noodle bar. Valet and more than 5,000 free, self-parking spaces are available. The Seminole Hard Rock Hotel & Casino Tampa is located off of I-4 at North Orient Road and Hillsborough Avenue, between I-75 and I-275, about 10 minutes east of downtown Tampa. For more information, please call 1-800-937-0010 or visit us online at http://www.seminolehardrocktampa.com or http://www.facebook.com/seminolehardrocktampa. Follow us on Twitter at http://www.twitter.com/SHRTampa.
###