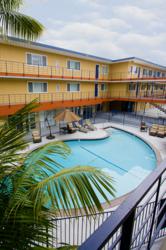 Isla Vista, CA (PRWEB) March 23, 2013
Tropicana Student Housing kicked off its Apple iPad Sweepstakes for the spring leasing season. The sweepstakes, which will accept entries until June 15, offers incoming UCSB and SBCC students a chance to win an Apple iPad after taking a free tour of Tropicana Del Norte residence hall or Villas at Tropicana apartments. No purchase is necessary. The winner will be randomly drawn on June 17, 2013. For full contest rules, visit http://www.tropicanadelnorte.com/home/spring.
"We are excited to participate in the upcoming Spring Insight open house at UCSB," said David Wilcox, Executive Director. "We offer visiting students and their families the opportunity to tour a student suite, with the chance to win a New iPad." Tropicana Del Norte residence hall, adjacent to UCSB's main campus, provides freshmen and continuing students suite-style living and an unlimited dining plan. In addition to the onsite café, heated pool, fitness center, rec room and 24-hour study lounge, Tropicana Del Norte offers amenities not found in a typical dorm: a private movie theater, hydro-massage room and a tanning booth.
Villas at Tropicana, in the heart of Isla Vista, provides easy apartment living for continuing and transfer students, with full access to all the resort-style facilities at Tropicana Del Norte. At Villas, students can rent the spacious 2-bedroom/2-bathroom furnished units by the bed or by the apartment.
To schedule a tour of either community, and to sign up for the iPad contest, visit http://www.tropicanadelnorte.com/home/schedule-a-tour.html, call (805) 968-0351, or come to the Tropicana Del Norte front desk at 6525 El Colegio Road, Goleta, CA 93117.
About Tropicana Student Housing
Tropicana Student Housing offers private residence halls and apartments for students attending the University of California at Santa Barbara (UCSB) and Santa Barbara City College (SBCC). Tropicana Del Norte Residence Hall caters to incoming UCSB freshmen; the Villas at Tropicana is a college apartment community for upperclassmen and Tropicana Gardens Residence Hall serves SBCC students. Tropicana Student Housing is proud to be the Official Student Housing Sponsor of UCSB Athletics; is host to more than 90 summer camps annually; and has been the proud summer home of Michael Jordan's Flight School since 1995. For more information, please contact Wendy Ballard, Director of Marketing at (805) 968-0351 or WBallard(at)tropicanastudenthousing(dot)com.