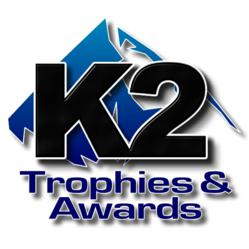 Richmond, VA. (PRWEB) March 24, 2013
Richmond based company K2 Trophies and Awards is proud to announce they have hired a new Social Media Specialist to help maintain and grow its online presence. Amy Ellis has been hired to take over the social media and blog for the company and improve its connections with customers across the country though its web presence.
"We've found that social media gives us another great way to connect with people looking for our products," says Charlie Moss, owner of K2 Trophies and Awards. "We like having a place for customers to post pictures of their trophies and a place to give people a look at some of the final products before they ship out."
"I am excited to join the K2 team," said Ellis. "I am looking forward to taking our social media presence to the next level and coming up with new ways to interact with customers on our social media pages and through our blog." Ellis will be overseeing the company's blog, social media profiles, and the newsletter for both K2 Trophies and Awards and its sister company K2 Teamworks.
"So far, sales have been great in 2013 and we look forward to continuing to grow as we increase our social media presence. I am confident that Amy will do an excellent job," claims Moss. "She has the skills to be highly interactive with our clients on the web and help to continue to grow customer loyalty."
K2 Trophies has pages on nearly every popular social media platform including Facebook, Twitter, Tumblr, Pinterest, and Instagram in addition to their blog and growing mailing list. Like K2 Awards on Facebook to receive exclusive offers and discounts.
About K2 Trophies
K2 Trophies and Awards, located in Richmond, Virginia, has been providing trophies, awards, medals, and more since 2002, with the goal of satisfying every customer. With a large variety of trophies and other items in stock, as well as a talented team of trophy builders on hand, K2 Trophies and Awards strives to offer the widest variety of trophies for the best price and the fastest shipping. K2 Trophies and Awards provides an entirely secure and encrypted site, and works hard to ensure that each order is fulfilled to the letter before shipment, so that each customer may have the best trophy-buying experience possible. For more information about K2 Trophies and Awards, visit K2Awards.com, or visit K2Teamworks.com for more information about their t-shirt and jersey division.