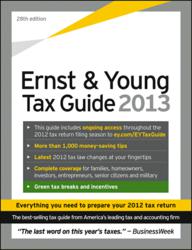 "Reviewing last year's tax return could ultimately save you money," said Greg Rosica, an Ernst & Young LLP Tax Partner and contributing author to the Ernst & Young Tax Guide.
New York, NY (PRWEB) March 26, 2013
The clock is ticking.The deadline for filing taxes is April 15, but that's no excuse to leave money on the table, according to the 28th edition of the Ernst & Young Tax Guide.
"Reviewing last year's tax return could ultimately save you money," said Greg Rosica, an Ernst & Young LLP Tax Partner and contributing author to the Ernst & Young Tax Guide. "Your 2011 income tax return could contain items that carryover to 2012 or remind you of many deductions, credits and savings you're entitled to this year."
Now available in e-book formats, The Guide offers taxpayers and preparers convenient on-the-go access while allowing readers to search effortlessly for helpful content. The electronic version makes it even easier to retrieve valuable tax tips about life changes including employment, marriage, divorce, moving, retirement or starting a family.
Still racing to beat the tax countdown? Don't file without considering 10 last-minute tips from the Ernst & Young Tax Guide 2013:
1. Deduct the cost of tax preparation software and publications.
2. Check for receipts. Deductions for cash contributions to charity need a bank record, such as a canceled check and a dated receipt from the charity.
3. There's still time to make a contribution to your IRA.
4. Always check your math. Even if you rely on software, check to make sure you input the correct numbers.
5. Include your Social Security number on every page of the return so if any page is misplaced by the IRS it can be reattached.
6. Write your Social Security number, form number and tax year on the face of checks made payable to the United States Treasury.
7. Be sure to sign your return!
8. Keep copies of all documents sent to the IRS.
9. If you're married, check to see if filing separate returns rather than a joint return is more beneficial.
10. If you worked for more than one employer, be sure to see if you can claim a credit for any overpaid social security taxes withheld from your wages.
"Requesting an automatic six-month extension may give you until October 15 to file, but don't forget that full payment of your tax bill is still due on April 15," says Rosica.
Visit http://www.ey.com/EYtaxguide for more tips, suggestions and information.
Editor's Note: B-roll of Rosica and the Ernst & Young Tax Guide is available.
The information contained in this press release is general in nature and is not intended, and should not be construed, as legal, accounting or tax advice or opinion provided by Ernst & Young LLP to readers. No information in this release was intended or written to be used by readers for the purpose of avoiding penalties that may be imposed under the Internal Revenue Code or applicable state or local tax law provisions. Readers are cautioned that this material may not be applicable to, or suitable for, their specific circumstances or needs, and may require consideration of non-tax and other tax factors if any action is to be contemplated. Readers are encouraged to consult with professional advisors for advice concerning specific matters before making any decision, and Ernst & Young LLP disclaims any responsibility for positions taken by taxpayers in their individual cases or for any misunderstanding on the part of readers. Ernst & Young LLP assumes no obligation to inform readers of any changes in tax laws or other factors that could affect the information contained herein.
About Ernst & Young
Ernst & Young is a global leader in assurance, tax, transaction and advisory services. Worldwide, our 167,000 people are united by our shared values and an unwavering commitment to quality. We make a difference by helping our people, our clients and our wider communities achieve their potential.
For more information, please visit http://www.ey.com. Ernst & Young refers to the global organization of member firms of Ernst & Young Global Limited, each of which is a separate legal entity. Ernst & Young Global Limited, a UK company limited by guarantee, does not provide services to clients.
This news release has been issued by Ernst & Young LLP, member firm of Ernst & Young Global Limited serving clients in the US.