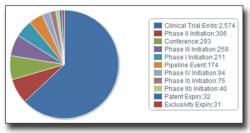 Norwood, MA (PRWEB) March 26, 2013
BioPharm Insight's monthly Catalyst Monitor analyzes the most material events in the sector during the upcoming month. The Catalyst Monitor tracks significant events and announcements such as US Food and Drug Administration (FDA) approvals, Advisory Committee meetings and expected key clinical results.
Allergan's Levadex (dihydroergotamine mesylate) is expected to receive FDA approval for the treatment of acute migraines. Its review date is 15 April. The Phase III FREEDOM-301 study impressively hit its four co-primary endpoints and had an excellent safety and tolerability profile. Additionally, Levadex's pain relief scores are similar to what is seen from marketed triptans. A human factors study cannot be ruled out, though, considering the FDA has previously delayed applications for migraine products, notably GlaxoSmithKline and Pozen's Treximet (sumatriptan naproxen sodium).
Despite a three month delay by the FDA for an approval decision date, Sucampo Pharmaceuticals and Takeda Pharmaceutical Company's Amitiza (lubiprostone) is anticipated to get the green light for opioid-induced constipation. Experts noted that the Phase III open-label study results indicated the drug is safe and efficacious. Approval in two indica¬tions, chronic idiopathic constipation and irritable bowel syndrome with constipation, further underscores the drug's solid safety profile.
On the development front, Trius Therapeutics and Bayer's second Phase III TR-701 (tedizolid phosphate) trial is expected to have positive results. But anti-infectives experts questioned, however, the validity of Trius' claims of greater potency and lesser toxicity as tedizolid's benefits over Pfizer's Zyvox (linezolid) based on current evidence.
Other catalysts in April include:

Raptor Pharmaceutical's cystinosis candidate, RP103, expected to clinch FDA nod
Titan Pharmaceuticals' opioid-dependence drug, Probuphine, will likely get FDA go-ahead, but market size is questionable
XenoPort's arbaclofen for multiple sclerosis spasticity is expected to yield Phase III efficacy
Learn how BioPharm Insight can help you find new business opportunities by starting a free trial today.
About BioPharm Insight
BioPharm Insight is the definitive guide to the global biopharma community. BioPharm Insight provides subscribers with an information edge by combining the most comprehensive real-time database of companies, drugs, contacts, M&A and licensing deals, forecasts and clinical trial data with proprietary forward-looking intelligence uncovered by an independent team of investigative journalists months or even years before it breaks in mainstream media. To learn more, visit http://www.biopharminsight.com. Follow BioPharm Insight on LinkedIn and Twitter.
About Infinata, Inc.
Infinata provides personalized technology solutions to turn information into insight. Services include a comprehensive BioPharm Solutions Suite, unique Wealth Prospecting tools and innovative Custom Data Services. Infinata is a part of Mergermarket, a Financial Times Group company and a division of Pearson plc. To learn more, visit http://www.infinata.com.