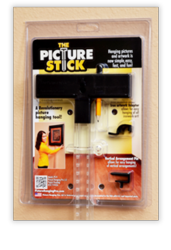 Every one of our customers simply loves how picture and artwork hanging is no longer a frustrating and difficult process
Detroit MI (PRWEB) March 25, 2013
With Easter approaching and Spring here, Picture Hanging Pro LLC announces their first sale of The Picture Stick ™. "This is the time when homeowners start thinking about remodeling projects to include refreshing their pictures and artwork" said Ernest Reschke, President of Picture Hanging Pro LLC. Reschke further added, "The last step in a remodel is re-hanging pictures and artwork. This can be very stressful considering most home owners can easily have 50-60 pictures and artwork to re-hang after a remodel. I want our customers to know that using The Picture Stick ™ will make this last step very easy."
The Picture Stick ™ normally retails for $33.00 at the company web store. At the $19.99, this represents a significant cost savings. "$19.99 is a great price for The Picture Stick ™. It's clear from our marketing analysis that we have many customers considering a purchase. Price may be a factor but its (The Picture Stick ™) also very new and a significant departure from conventional methods in hanging pictures and artwork, so I understand the cautious consumer," said Reschke.
Unlike other picture and artwork hanging tools on the market, The Picture Stick is the only one that can preposition pictures or artwork against the wall hands free. "The two best features of The Picture Stick ™ are one, not having to hold the picture or artwork against the wall when deciding where to hang it and two, the capability to mark the exact spot to install the wall anchor once that decision is made. All of our feedback is more than just positive. Every one of our customers simply loves how picture and artwork hanging is no longer a frustrating and difficult process," said Reschke.
About The Picture Stick and Picture Hanging Pro LLC
The Picture Stick ™ is the ultimate picture and artwork hanging tool! No more frustration or complicated measurements, simply hang the picture or artwork on The Picture Stick ™. Make unlimited location adjustments and when complete, mark the anchor location and install the anchor. It's simple, easy, fast and fun! Finally, the frustrations and difficulty of hanging pictures are solved! The Picture Stick ™ is assembled in the USA with U.S. and imported parts.
Launched in 2011, Picture Hanging Pro LLC is a veteran owned and operated company. For more information about The Picture Stick ™, go to http://www.PictureHangingPro.com.
Ernest J. Reschke
Picture Hanging Pro LLC
248-953-4588