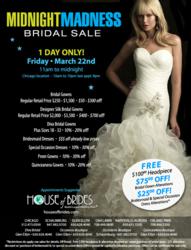 Industry Consultant Dale Buziecki speculates, "The sale booked quickly and heavily because Midnight Madness is known for its incredible deals."
Glen Elly, IL (PRWEB) March 22, 2013
House of Brides started their sale this morning at 10:00am at the Chicago salon and 11:00am at the other locations. The event runs until 10;00pm in Chicago and Midnight at all other salons. Each salon has reported appointments near capacity for the day.
The retailer announced details about the Midnight Madness Sale Monday, March 18th and received an immediate response from brides and wedding parties. The sale is exclusive to the bridal retailer who has hosted the special event for over 30 years.
The sale features exceptional discounts on wedding dresses and bridesmaid dresses including the new 2013 collections. Savings are also offered on Mother of the Wedding gowns, special occasion gowns, flowergirl dresses and Prom dresses. Additional storewide savings are available.
The sale also boasts bonus offers including a free $100 headpiece and $75 off bridal alterations with the purchase of a wedding dress. Customers purchasing a bridesmaid gown or special occasion dress receive $25.00 off alterations.
Industry Consultant Dale Buziecki speculates, "The sale booked quickly and heavily because Midnight Madness is known for its incredible deals."
The sale is already underway at the salons. Management expects calls to continue for appointments throughout the day.
The Midnight Madness Sale is Friday, March 22nd at House of Brides 10 locations. Hours are 11:00am – Midnight. The Chicago salon's hours are 10:00am – 10:00pm with the last appointment accepted at 9:00pm.
Limited appointments are available. Visit the website to see the ad on the Store Promos page or to find a salon on the Locations & Hours page.
About House of Brides:
House of Brides established its first brick-and-mortar store in 1929 and has since grown to 11 Chicagoland stores and global E-Commerce website, houseofbrides.com. Millions of brides and their wedding parties visit the salons and global website for over 50,000 wedding and special event products.