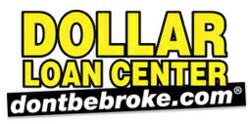 This makes a total of $50,000 Dollar Loan Center has given to Henderson Little League - Chuck Brennan
Henderson, Nevada (PRWEB) March 26, 2013
Henderson Little League, the city's largest youth baseball club, got a boost from Dollar Loan Center for its 2013 season. Chuck Brennan, the company's CEO, made his third annual contribution to Henderson Little League at its opening ceremonies recently with a check for $10,000 and a commitment to support the organization for the next five years.
"This makes a total of $50,000 Dollar Loan Center has given to Henderson Little League," said Brennan. "We believe that the league is great for the city of Henderson and families who live here. Henderson Little League is one of the reasons this city is one of the greatest places to live in Nevada and we are proud to be a part of its success."
Hundreds of players, coaches, parents and volunteers were on hand to celebrate the league's 2013 season opener, held at Heritage Park. Dollar Loan Center has been a major sponsor of the organization for the past three years and has given a total of $50,000 to provide the league with operating costs including uniforms, park fees, equipment and staffing at games.
"Henderson Little League is an incredible community organization that gives 600 children an opportunity to learn sportsmanship, teamwork, playing fair and of course the great game of baseball," said Brennan. "I am happy to support such a great organization in our community."
Henderson Little League was home to Nevada's District 2 Champions in 2012, and Brennan provided an additional sponsorship to help the team attend the tournament.
Brennan is one of Nevada's most recognized philanthropists, giving hundreds of thousands every year to organizations in Nevada and throughout the country. This year he is opening the Brennan Rock & Roll Academy which he founded in his hometown of Sioux Falls, South Dakota.
Dollar Loan Center operates nearly 100 stores in Nevada, California, Utah and South Dakota. In 2012, the company was named a "Best Place To Work" In Southern Nevada by Vegas Inc magazine. For more information, call 866-550-4352 or visit http://www.dontbebroke.com.
For more information on Henderson Little League, visit http://www.eteamz.com/hendersonll.